Watch: Merida From 'Brave' Arrives On 'Once Upon A Time'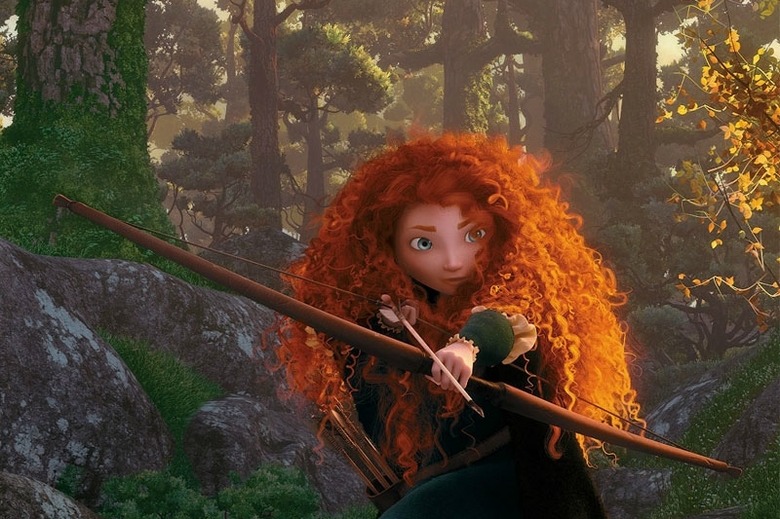 Merida is blazing trails all over the place. The Brave heroine was the first Pixar character to become an official Disney Princess, and now she's going to be the first Pixar character to show up on ABC's Once Upon a Time. A new promo video teases her appearance, where she'll be played by Amy Manson. Get your first look at the Once Upon a Time Merida after the jump.
ABC unveiled the first look at the Once Upon a Time Merida appearance on YouTube.
The short clip doesn't tell us much about how exactly Merida will fit into the show, but it does suggest that her live-action small-screen persona will be a lot like her animated big-screen one. (And not just in terms of appearance, though we do love that wild red hair.) Once Upon a Time's Merida looks to be as good with a bow and arrow as Pixar's original Merida was, and that mischievous smile at the end suggests she's got the same rebellious spirit.
Merida's introduction was officially announced at this weekend's Once Upon a Time Comic-Con panel, but it's been rumored for some time. She's played here by Scottish actress Amy Manson, who's appeared on the British shows Atlantis, Being Human, and Torchwood, as well as the Brit romcom Not Another Happy Ending.
The Scottish lass' arrival doesn't come as a total shocker. Showrunners Adam Horowitz and Eddy Kitsis have made no secret of their affection for the character. "We would love to [incorporate] Merida," Kitsis told E! last year. Horowitz agreed, adding that Merida felt like she could be "slotted in." (The pair also mentioned at the time that they wanted to bring Frozen's Anna and Elsa onto the show, and those two have already appeared.)
Meanwhile, Once Upon a Time also teased a new look for an old character, as Emma transforms into the Dark Swan next season. Check it out below:
Once Upon a Time Season 5 premieres September 27, 2015.