'Ferrell Takes The Field' Teaser: Will Ferrell Plays Every Baseball Position In One Day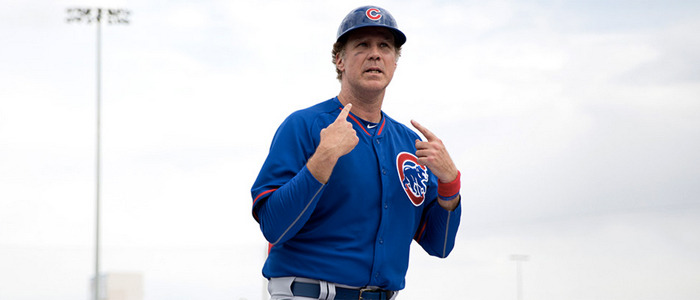 Funnyman Will Ferrell has had plenty of fun blending sports and comedy with feature films like Semi-Pro, Talladega Nights: The Ballad of Ricky Bobby and Blades of Glory. He's even dabbled in sports on television with a role in the comedy series Eastbound & Down. Now Ferrell is returning to HBO to mess around with America's pastime.
You may remember hearing back in March that Will Ferrell was going to play Major League Baseball for ten teams, taking all ten positions, in a single day. Now that day will be chronicled in an HBO documentary special from Funny or Die called Ferrell Takes the Field, and the first teaser trailer has just arrived.
Watch the Ferrell Takes the Field teaser after the jump!
It's just a brief glimpse into this record-breaking day that was done in partnership with Funny or Die, all to help support the fight against cancer. And this looks like it's going to be thoroughly entertaining, maybe even getting people who aren't the least interested in sports to pay attention to baseball for a little bit.
How did Will Ferrell pull off this miraculous sports stunt? Well, he took helicopter and van rides around the west coast and Arizona to play for the Oakland Athletics, Seattle Mariners, Chicago Cubs, Los Angeles Angels of Anaheim, Cincinnati Reds, Arizona Diamondbacks, San Francisco Giants, Chicago White Sox, Los Angeles Dodgers and San Diego Padres. It was made a little easier by the fact that each of these teams were playing one of the other ones, so Ferrell only had to stop at five games total. But still, this is pretty damn cool.
During various television appearances and press interviews, Ferrell was spouting off exactly the kind of great quotes you would expect such as, "I have the physique a lot of people dream about having. It's my obligation to share it with the world," and "Have you heard of a slurge? I threw that in Japan." Well, now all I want to see is a documentary about Ferrell playing baseball in Japan.
If you want a rundown of what you can expect from Ferrell Takes the Field, check out the recap of Ferrell's day over at MLB.com. Otherwise, you'll be able to check out what promises to be a hilarious little HBO documentary special at the end of baseball season on September 12th at 10pm ET, only on HBO.