Comic-Con 2015: 22 Things We Learned About 'The Walking Dead' Season Six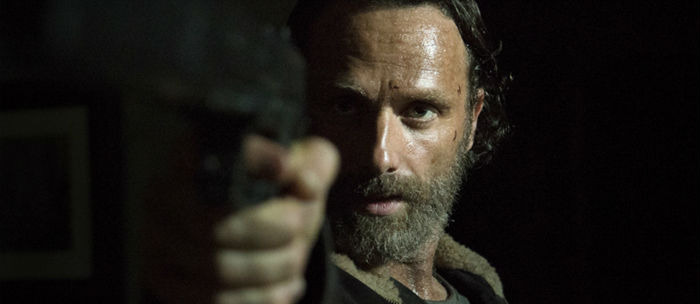 This fall marks the return of The Walking Dead, and that means AMC returned to Hall H to tease the forthcoming sixth season of the comic book adaptation.
After the jump, we share what we learned about the forthcoming season, including tidbits about the dynamic between Rick (Andrew Lincoln) and Morgan (Lenny James); a couple new cast members; who wants Michonne (Danai Gurira) and Rick to get together; and just how many walkers we'll see in the season premiere.
First of all, if for some reason you happen to be behind on The Walking Dead, you'll be able to catch up on five seasons on five Sundays starting on July 26th at 2:30pm Eastern and continuing for five consecutive Sundays after that. Otherwise, if you're not caught up, you might not want to keep reading The Walking Dead Comic Con 2015 panel recap after the jump.
Straight out of the gate, panel moderator Chris Hardwick revealed that the sixth season will premiere on October 11th at 9pm Eastern.
After the success of last season's super-sized season finale, the season premiere will be another 90-minute episode, and it's the second largest episode to date.
They had 654 walker extras for the premiere, and that's second only to the pilot episode. They've tried to have more and more decomposition in the zombies as time passes each season.
If you can't wait to see more of the sixth season (watch the first trailer right here), there will be a Talking Dead preview special on Sunday, August 23rd.
Not everything is as it seems in the trailer. Executive producer Scott M. Gimple commented on whether or not this season is about Rick versus Morgan, or simply challenging how Rick has always led this group of survivors:
"We some times play with the truth in trailers, but it's just to maintain the experience for everybody. Rick faces challenges with the way he does things and including the people in how he does things. Rick has to deal with the fact that things went down with Pete, and all the people that followed him into the bowels of hell are looking at him differently."
At first, Gimple said that there would be very little in the vein of flashbacks, though they would play with the timeline a little bit (but not as much as last season). But then he backtracked and said that there are actually a lot of flashbacks this season, and there will be an entire episode that is one big flashback. Judging by what Lenny James said about Morgan, that episode will likely let us know what he's been up to for the past four seasons.
The Wolves will be part of season six, but Gimple says that "hopefully in a way that you don't expect."
Andrew Lincoln's beard is a very subtle way of reflecting what's going on with Rick Grimes in the show. Gimple explained, "The beard is a metric of where Rick is at. When he shaved the beard in Alexandria, we mirrored that. The beard will continue to inform and indicate. It's a barometer of where Rick is at." For the record, Lincoln said shaving on camera was one of the most uncomfortable things he's done on camera, calling it unbearable.
The dynamic between Rick and Deanna (played by Tovah Feldshuh) will continue to develop. Andrew Lincoln says there's still genuine respect between the two leaders. Last season we saw Rick restraining his instinct to lead, but now he's realized that he's amongst innocents, people without experience. Deanna's permission to shoot Pete, acknowledging that he was right, was abig moment.
Morgan is a wild card. He's seeing a very different version of Rick than the one that he met years ago. And while he's been looking for Rick this whole time, being the last person on the planet that Morgan actually knows, he may end up being sorry that he did. On the same level, this is a version of Morgan that we don't yet really know either.Michonne is trying hard not to go back to the person she used to be. Danai Gurira commented about how last season she decided to stop being this isolated character who goes off by herself with her pet zombies, and venture into the world and be alone, and not be vulnerable to anybody. She turned around and is embracing people and trying to move forward with her life. Reconnecting was miraculous for her after being broken down so many times, where trust is obliterated as soon as they seem to get comfortable.
But now she's starting to worry about everyone else, seeing that some of them are starting to veer towards a similar path she used to walk. That's why she picks up the sword again. Gurira says she has to balance her outlook from the past with what she feels now, "I've got to balance this out. If someone else can use it for bad, I trust myself to use it for good. It's a protecitve force if i'm using it, but if some other dude picks it up..." You know what she's talking about.
On that same level, Glenn (Steven Yeun) is also doing a tricky balancing act by not giving into the savagery of this new world. Steven Yeun commented on how pivotal of a moment it was for Glenn not to kill Nicholas in season five:
Glenn is meeting a version of himself he doesn't know. He's learning what it means to cross the threshhold. [Killing
Nicholas] serves no function in that moment except it just makes sense for himself. He looked at himself and saw a version of what he could have been if he made that choice. If he crosses that line, it's kind of game over for him. He found a place where he and his wife can be there and search for the life they've always wanted, and part of that includes humanity, living the life they previously had, not some wild wild west scenario. Maggie and Glenn keep each other grounded in a symbiotic relationship and preserves what semblance of humanity and sanity they have left.
Sasha (Sonequa Martin-Green) has a long journey ahead of her too. Martin-Green says Sasha now hopes to find healing and restoration, because she's hit rock bottom, suffering with post-traumatic stress disorder. Sasha needs to find a reason to live again. She hasn't been the woman her father raised her to be.
As for Abraham (Michael Cudlitz), his defining moment in the show has yet to come. But he's still a guy with, "no filter, no agenda, nothing going on behind the scenes, what you see is what you get and if you don't like it that's too fucking bad."
Finally, Merritt Weaver (Nurse Jackie) and Ethan Embry (Can't Hardly Wait) have joined the cast. You can see Embry in the teaser trailer, as the Alexandria resident who doesn't think they're ready to take on zombie threat outside the walls. As for Weaver, it was revealed that she's playing a character from the comic books, but you have to wait to find out who.
Fun Facts
Michael Cudlitz wants to live in a world where Carol bakes cookies and gives flowers to everyone.
Norman Reedus has a favorite emoji and it's the red balloon.
Scott C. Gimple tried to get another cast member from The Wire on this season, but it didn't work out.
Andrew Lincoln's mother is campaigning hard for Rick and Michonne to end up together. She tells him, "If you had any political balls, you'd get them together."
Chris Hardwick struggles with being America's zombie therapist, because he's "the first stupid face you see after your favorite character dies.
***
The Walking Dead returns on October 11th this fall. Watch the first trailer right here.