Ryan Reynolds Talks 'Deadpool' Easter Eggs And Potential X-Men Crossovers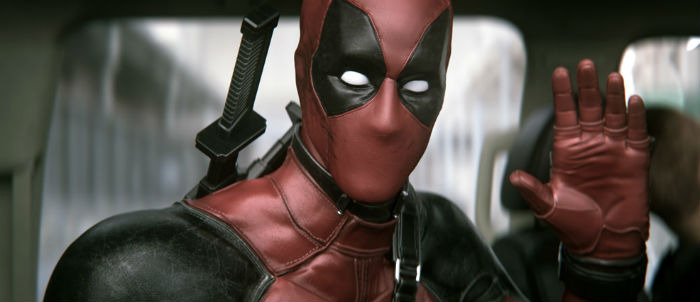 We're going to get a glimpse at Deadpool before Comic-Con is over, but in the meantime, some early teases of what we can expect from the fourth wall breaking Merc with a Mouth have come straight from Ryan Reynolds.
The star of the meta comic book flick is down here in San Diego to promote Deadpool, and he's already sat down with a couple outlets to talk about the film, hitting topics such as easter eggs for fans and also the potential for any crossovers into the X-Men universe. Read more about the Deadpool easter eggs and X-Men crossover chances after the jump!
First up, speaking with ScreenRant, Reynolds addressed the possibility of having Deadpool popping up into the X-Men franchise, maybe in Wolverine 3. If he knows anything, he's not keen to give a definitive answer.
But he has a pretty good argument as to why it might not be feasible:
"That's a damn good question. You tell me. It would be kind of hard, wouldn't it? Because you have a character – let's say you have a character who knows he's in a comic book movie, that sort of breaks the fourth wall [and] has a tendency to kind of say people's real names instead of their characters' names. How do you introduce that into another universe that...does not do that? So...I don't know. I'd be curious to see. I'm not saying that's not going to happen. I don't know if it's going to happen. I would love to see that.
You have to be very careful about how you do that because you don't want to do a disservice to any one of these characters that are beloved by everyone."
I love that Reynolds is passionate enough about the character to be cautious about how Deadpool interacts with 20th Century Fox's other comic book properties. It shows that he's just not into doing crossovers and whatnot just to do them. Plus, it sounds like there's going to be plenty of good stuff for fans to enjoy just in Deadpool alone.
In a separate interview with MTV, Reynolds was asked about any easter eggs that might pop up in Deadpool for fans of the comic book series. The star touts "more easter eggs than the easter bunny," some for casual fans, some for only the most hardcore. Hear what else he has to say in the interview right here:
When you have a character that breaks the fourth wall, references pop culture non-stop and mouths off all the time, nothing is off limits. So we're likely in for a fun ride when Deadpool hits theaters next year. And stay tuned to see what happens during 20th Century Fox's Comic-Con panel this weekend.
Deadpool arrives on February 12th, 2016.