'Damien' Teaser Trailer: The Antichrist From 'The Omen' Is All Grown Up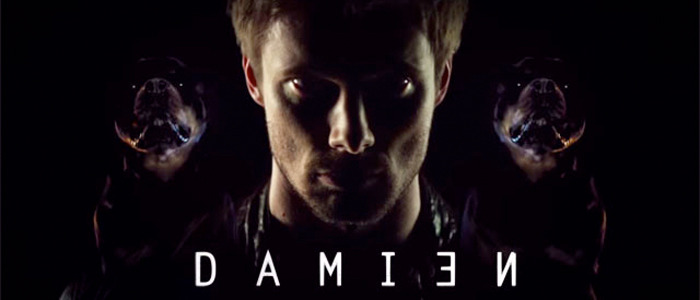 After successfully bringing the formative years of Psycho killer Norman Bates to the small screen with Bates Motel, A&E is bringing another iconic horror character to television.
Damien is a series adaptation and continuation of the 1976 horror classic The Omen. The series hails from former The Walking Dead executive producer Glen Mazzara and picks up 25 years after the original film, when the Antichrist child known as Damien is all grown up. If you're curious as to how this series adaptation might turn out, a quick teaser trailer has just surfaced online.
Watch the Damien teaser trailer after the jump!
Damien was originally ordered straight to series for six episodes at Lifetime, which seems like a rather strange acquisition for the network. But then corporate cable network A&E took it off their hands and ordered another four episodes. The series has had some unique viral marketing around San Diego Comic-Con with what appears to be Satan worshipers going toe-to-toe with the usual religious protesters outside of the convention center. Check it out:
Pro-satan rally at comic-con #SDCC2015 #damien https://t.co/lDmbaMnJwV

— Gizmodo (@Gizmodo) July 9, 2015
So what can we expect from Damien, and how does it tie into The Omen film series? Mazzara told THR:
"This really has a high-level of conspiracy. It plays as a conspiracy thriller because everybody wants Damien on their side or eliminated. There are a lot of different groups vying to either control him or eliminate him. There's a thriller aspect to it, which is tricky and something that I haven't done before and that comes directly out of the original film.
We see the series as a sequel to that original movie. We're not using the second and third movies as part of our bible. Fans of that first movie will also be interested in finding out where Damien's been for those missing 25 years since the last time we saw him when he was a boy and meeting him now. We'll definitely give fans information on where he's been."
With a character that's supposed to bring about the end of the world, where does Mazzara see this series going? Can it stay on the air for very long before losing steam? Mazzara explains:
"The antichrist is supposed to bring about the apocalypse, so the end game is exactly that. An end game with a capital E and a capital G. So it's a question of if he fails — if he succeeds as the antichrist — he destroys the world. If he succeeds as preventing it, he saves the world, so the stakes are very high here. That's a long story to tell. Hopefully fans will show up and we'll get a following, and because I feel that there's a lot of story and a lot of layers. The way we've developed this, it can go on for more than just several seasons. We've got a good long-term plan here. We're just getting started. What we want to do is establish the characters in a big way and understand the dynamics between them. But we have all these other parts of Damien's world ready to introduce."
Sounds like a difficult story to build, but Mazzara seems confident in the material they have to build upon the mythology of the original film while also telling a fairly original story that we haven't really seen on television before in this style and tone. I can't say that I'm excited, but I'm certainly intrigued to see how it turns out.
"Damien" follows the adult life of Damien Thorn (Bradley James), the mysterious child from the 1976 motion picture who has grown up seemingly unaware of the satanic forces around him. Haunted by his past, Damien must now come to terms with his true destiny — that he is the Antichrist. Barbara Hershey stars as Ann Rutledge, the world's most powerful woman who has been tasked with making sure Damien fulfills his destiny. Omid Abtahi portrays Amani Golkar, a close colleague of Damien's whose fierce loyalty will be tested when he realizes who his brother-in-arms actually is. Meganlyn Echikunwoke plays Simone Baptiste, a woman whose life is thrown into turmoil when tragedy unexpectedly strikes.