Comic-Con 2015: 'The Hunger Games: Mockingjay - Part 2' Viral Teaser, Plus Full Trailer Description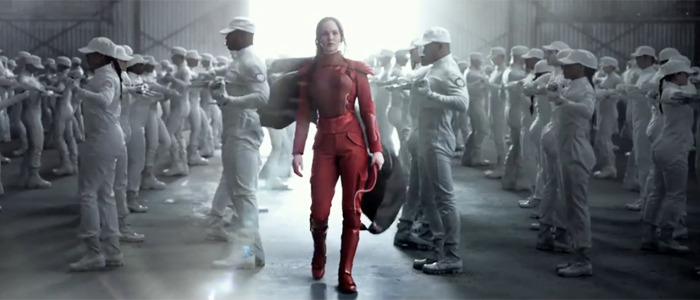 On Thursday, July 9th, Lionsgate stormed Hall H with The Hunger Games: Mockingjay – Part 2, the final chapter in the young adult sci-fi franchise. Jennifer Lawrence, Liam Hemsworth, Josh Hutcherson, director Francis Lawrence and producer Nina Jacobson were on hand for the panel, but we'll get to that in another post.
Instead, we'd like to call your attention first to a new viral teaser featuring the crimson clad Katniss Everdeen (Lawrence) and a very coordinated white army. In addition, we'll recap the full theatrical trailer for the end to the two-part finale. And considering this trailer won't be released for a couple months, big fans of the franchise will probably want to read our description of the trailer.
Read The Hunger Games: Mockingjay Part 2 trailer description and see the viral teaser after the jump.
First up, here's the new viral teaser for Mockingjay – Part 2 from Lionsgate:
And if you're interested in the trailer that was show twice in Hall H, and won't be online for a couple of months, then keep reading for the trailer description.
Establishing shots show The Capitol in smoke, sweeping landscapes, shots of Jennifer Lawrence appear as Donald Sutherland's voice is heard as President Snow, "I'm watching you and you're watching me. My dear Miss Everdeen, make no mistake, the game is coming to its end."
District 13 is rallying their troops, preparing for an assault on The Capitol. Patina Miller is seen as Commander Paylor, giving a speech as Katniss prepares to march an army into the city, "Our future starts tomorrow at dawn, when we march together into The Capitol." Snow has turned the city into a "minefield of booby traps" and "Sadistic inventions designed to make sport of our death." Cue Finnick's (Sam Claflin) line, "Welcome to the 76th Hunger Games."
Then we get a montage of action shots, Katniss shooting an arrow down the street, triggering a barrage of flames. She marches down the main street in The Capitol where the parade took place before, cut to Gale (Liam Hemsworth) who says, "We've got one shot, let's make it count."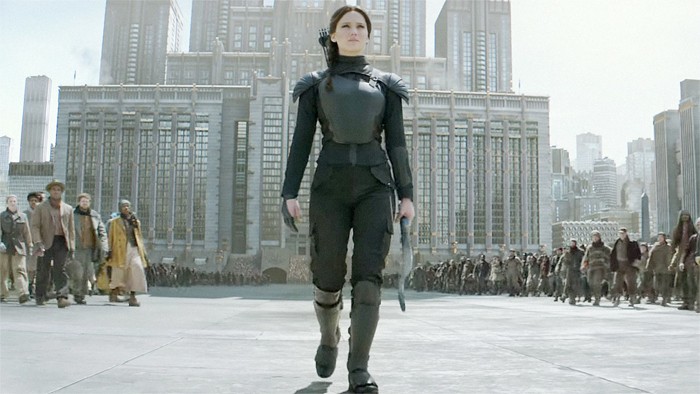 An action montage begins, showing off the fight to take The Capitol, including some shots of slimy, mutant monsters. Buildings falling, arrows shooting, lots of gunfire. There's a quick shot of Prim (Willow Shields) as Katniss says in voiceover, "Nothing is safe while he's alive." She tells District 13, "Snow has to pay for what he's done." Then Peeta gets intercut with action shots with voiceover saying, "Our lives were never ours. They belong to Snow and our deaths do too. But if you kill him, Katniss, if you end all of this, all those deaths, they mean something."
Tons more destruction and fighting, Cressida (Natalie Dormer) triggers a trap in the city, spilling what appears to be hot oil or tar into the streets in a great flood (we've seen this in the teaser trailer). As some of the rebels run away as the floor beneath them explodes in a moving wave of shards, Katniss yells to her people, "Tonight, turn your weapons to The Capitol. Turn your weapons to Snow."
It's a really powerful trailer that shows that they've amped up the action and excitement from the book quite a bit in a way that fans should enjoy thoroughly, and the good thing is that it doesn't seem to give too much away for those who haven't read the books. Like we said, it'll be awhile before this full trailer for The Hunger Games: Mockingjay – Part 2 trailer is online, but we'll be sure to post it whenever it's made available.
Do you like the sound of The Hunger Games: Mockingjay – Part 2? How about the viral marketing?