'Sherlock' Christmas Special Image: Holmes And Watson Go Victorian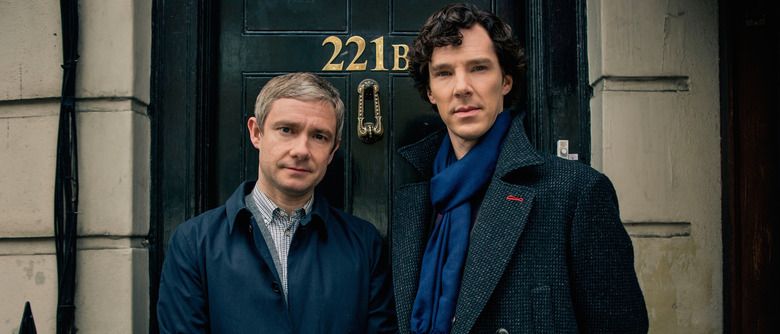 It's Christmas in July! BBC One has unveiled another new look at the upcoming Sherlock Christmas special, which as we previously reported will send the modern detective and his trusty sidekick to crack cases in late 19th century London.
Consider it a return to their roots. Although Sherlock takes place in the modern day, Arthur Conan Doyle's original stories about the character were written and set in Victorian times. See the Sherlock Christmas special image after the jump. 
BBC One shared the new Sherlock Christmas special image, featuring stars Martin Freeman and Benedict Cumberbatch, on Twitter.
Shut up everybody, shut up! Don't move, don't speak, don't breathe. A new #Sherlock Special image has landed... pic.twitter.com/ZoCX8P4S9S

— BBC One (@BBCOne) July 8, 2015
Nice to see the guys look as dashing in Victorian garb as they do in modern-day wear. Watson's mustache is especially fetching. Sherlock's deerstalker hat is nowhere to be seen here, but earlier set photos have confirmed he'll don the old-timey headpiece.
While theories have run rampant about what the Victorian episode might mean for the Sherlock continuity, series co-creator Steven Moffat has said that he intends for the Christmas special to be a one-off:
The special is its own thing. We wouldn't have done the story we're doing, and the way we're doing it, if we didn't have this special. It's not part of the run of three episodes. So we had this to do it — as we could hardly conceal — it's Victorian. [Co-creator Mark Gatiss] and me, we wanted to do this, but it had to be a special, it had to be a separate entity on its own. It's kind of in its own little bubble.
No release date has been set for the Sherlock Christmas special, but for obvious reasons we can expect it sometime around the end of the year. Expect even more details to come out of the Sherlock Comic-Con panel later today; we'll update you as we learn more.