Star Wars Bits: Rogue One, Han Solo Rumors, Battlefront, Sideshow Collectibles And More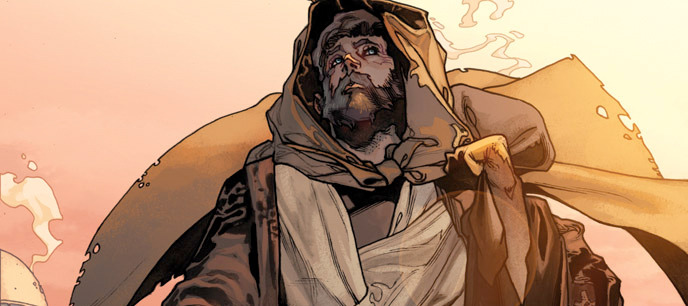 It's not impossible. I used to bullseye Star Wars Bits in my T-16 back home, they're not much bigger than two meters. Here's what we've got in this edition of news from a galaxy far, far away:
Aaron Paul is (again) rumored for a future Star Wars role,
R2-D2 Builders Club members are already working on Rogue One,
A rumored Rogue One casting call surfaces,
Sneak preview of Star Wars comic #7 with Obi-Wan Kenobi,
Hot Toys unveils one-sixth scale Millennium Falcon cockpit,
Star Wars Rebels Season One will be available in the UK,
Sideshow Collectibles unveils new Ralph McQuarrie Boba Fett statue,
Battlefront short story coming in October,
Dice Games was scared of Star Wars Battlefront,
New image of Sabine in Star Wars Rebels,
Disney Infinity 3.0 Star Wars packs release date,
and a new Star Wars Aftermath description
(Header image: Sneak preview of Star Wars comic #7 with Obi Wan Kenobi)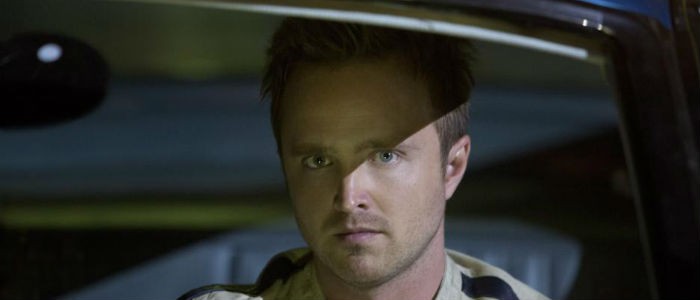 Now that Phil Lord & Chris Miller are set to direct a Star Wars Anthology movie about Han Solo, rumors are already swirling about casting. Breaking Bad star Aaron Paul has been rumored for a role in a Star Wars Anthology movie, and at one time that role was said to be Han Solo. But he's also been linked to Rogue One. And now he posted this on Instagram:
Now in this Instagram post, he does say "They started following me," with regards to the Star Wars Twitter account following him. But in a since-deleted Twitter post (via StarWars7News.com) that had the Instagram photo linked in it, all he said was "My dreams are coming true." Could he be hinting at a future announcement? We'll have to wait and see.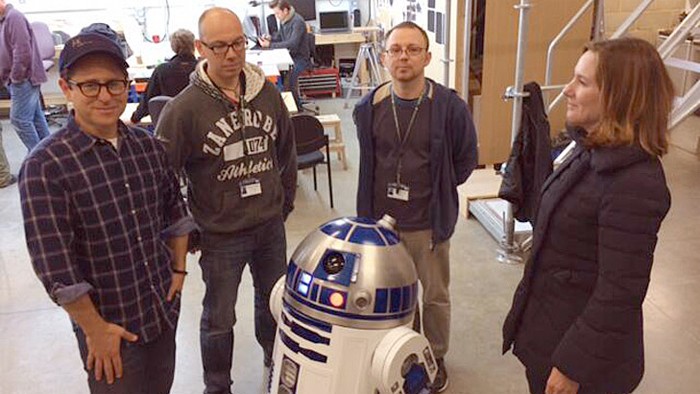 R2-D2 Builders Club members and Star Wars fans Oliver Steeples and Lee Towersey had their dreams come true when they were hired to create new astromech droids for Star Wars: The Force Awakens. Now it seems they're already hard at work on Star Wars: Rogue One. Keep in mind that this doesn't mean that R2-D2 is in the Star Wars Anthology film, because the duo worked on a variety of astromech droids in the new film in addition to our favorite feisty droid. Find out more at StarWars7News.com.

Star Wars Underworld has word of a casting call for Star Wars: Rogue One surfacing with these details:
"Genre Films and Lucasfilm are getting ready to begin shooting in August, 2015 on Walt Disney Pictures' first film in a new series of stand-alone movies in the Star Wars saga. The first film is titled "Star Wars: Rogue One". The film's casting director is setting up auditions for lead and supporting roles, many of which will be young male and female adults to play X-Wing pilots of the Rogue Squadron. Shooting will take place at the Pinewood Studios near London, and other various locations in the UK. There will also be some additional shooting in Mexico."
Doesn't have anything too revealing, so maybe it's a real casting call.
The next issue of Marvel's new Star Wars comic will feature Obi-Wan Kenobi. Here's a sneak preview (via ComicBookMovie.com):
Luke Skywalker has uncovered the journals of his departed mentor Obi-Wan Kenobi. Now, experience Kenobi's harrowing accounts of days long gone by! It is a time when injustice reigned on Tattooine. As villainous scum runs rampant over the blistering sands, only a Jedi Master stands any hope of liberating the planet from the grasp of gangs, thieves and thugs. But would Ben risk everything to do what was right? Even if it meant revealing himself to those searching for his whereabouts?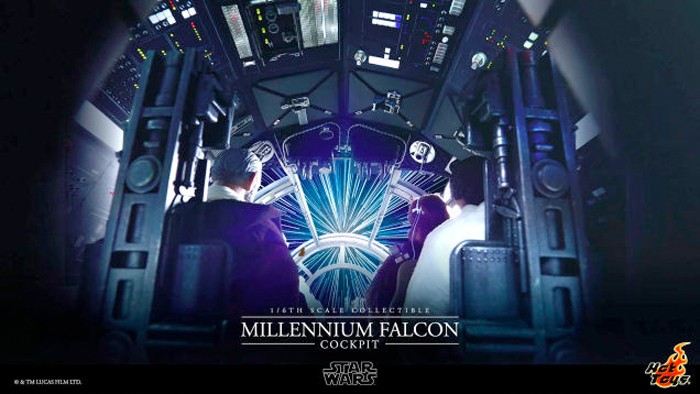 Hot Toys has unveiled a sixth scale version of the Millennium Falcon cockpit. Above is just the teaser image, but you can get a much better look at the collectible in our post of some of the cool new Sideshow Collectibles products, including a massive sixth scale TIE Fighter, from the Comic-Con 2015 show floor right here.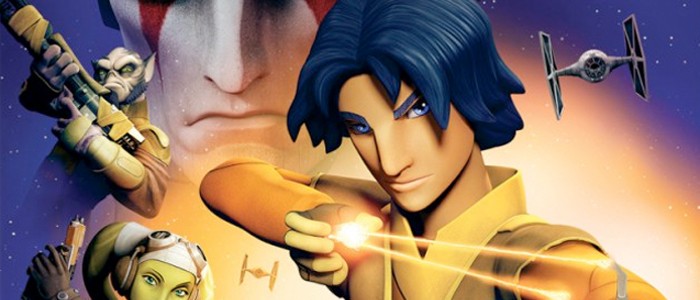 Star Wars Rebels was recently confirmed to have the first season released on Blu-Ray on September 1st in the United States. But that left fans in the United Kingdom wondering when they could get their hands on the show. Lucasfilm (via Jedi News) has confirmed that they will be able to purchase the first season at the same time as the US.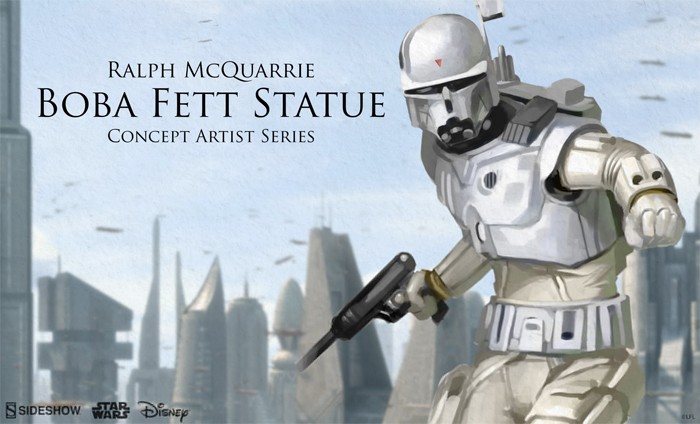 Sideshow Collectibles also has a cool new Star Wars statue that takes cues from Ralph McQuarrie's original artwork created for the movie, specifically the initial design of Boba Fett.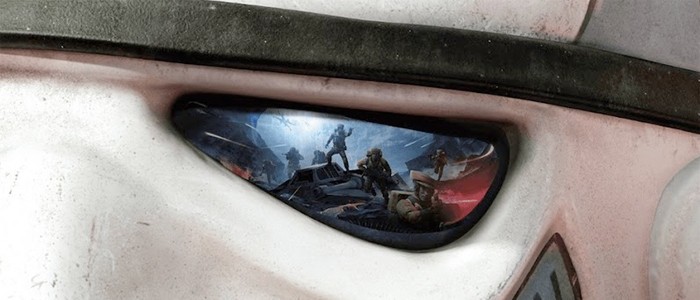 Star Wars Battlefront isn't due on shelves until November 17th, but there's a novel based on one of the company's from the video game arriving a couple weeks beforehand with Star Wars Battlefront: Twilight Company on November 3rd. And now Star Wars Underworld reports a new short story tied to the book is said to be published in Star Wars Insider #161 on October 20th. So check it out if that's your thing.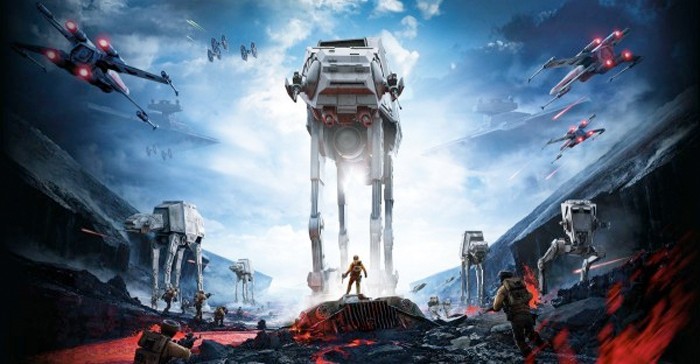 Speaking of Star Wars Battlefront, Dice Games' own Patrick Bach told The Guardian that they were nervous about taking on the video game:
"We knew it would be a cumbersome process – to create what we wanted to create," says Patrick Bach, Dice's general manager. "When we were asked to do this we were really scared. We thought, no, this is too intimidating. And we had enough in our pipeline to be able to say no. But on the other hand, your heart is screaming yes! Because of course you want to make a Star Wars game. We just thought, okay, we'll figure it out as we go."
Find out more at The Guardian.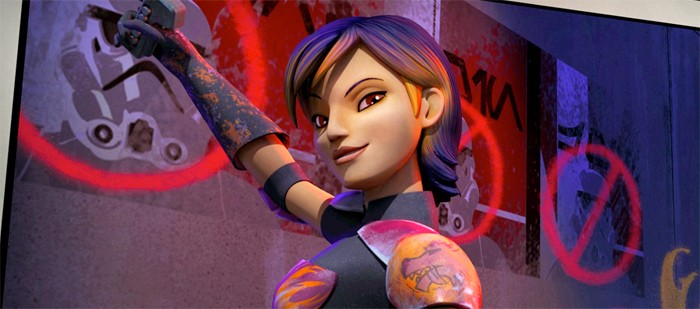 Dave Filoni reveals a new image of Sabine from Star Wars Rebels:
Vote for Sabine & we'll make sure you get the best live-action representation of her! http://t.co/er3Iw7djGB pic.twitter.com/t3vZtjTtzI

— Dave Filoni (@dave_filoni) July 6, 2015
The image came as fans hope that the character wins the vote to become the next 6-inch Black Series action figure from Hasbro. She's not in the lead, but if she pulls it off, Filoni says (via Star Wars Underworld) they'll "make sure you get the best live-action representation of her!"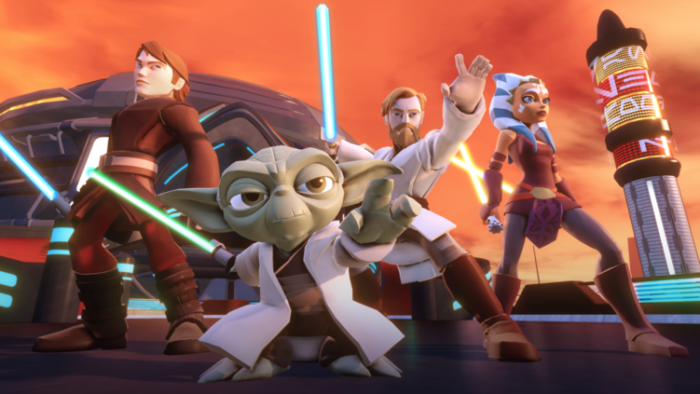 Disney Infinity 3.0 will hit shelves on August 30th, and these are the Star Wars figures that will be on sale the same day that the first starter pack hits stores:
Star Wars Twilight of the Republic Play Set (Anakin Skywalker and Ahsoka Tano figures included) for players who choose to digitally

download
the Disney Infinity 3.0 Edition Software; additional standalone figures (Yoda and Obi-Wan Kenobi) and Power Disc Pack
Star Wars Rebels figures (Kanan Jarrus, Ezra Bridger, Sabine Wren, and Zeb Orrelios)
Star Wars Saga Starter Pack (PlayStation 4 and PlayStation 3 exclusive featuring early access to Rise Against the Empire and Boba Fett figure)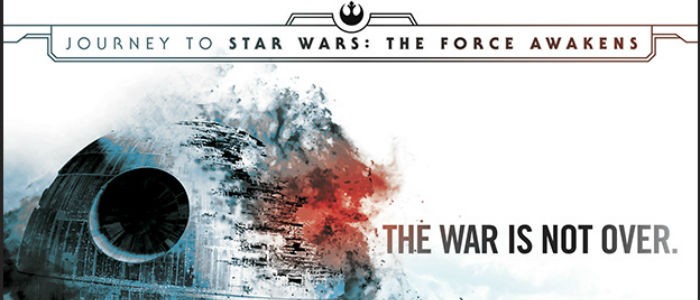 Finally, the upcoming books Star Wars: Aftermath and Star Wars: Lost Stars just got new descriptions. Here's the new description for Aftermath, and you can read the other one at Star Wars Underworld.
As the Empire reels from its critical defeats at the Battle of Endor, the Rebel Alliance — now a fledgling New Republic — presses its advantage by hunting down the enemy's scattered forces before they can regroup and retaliate. But above the remote planet Akiva, an ominous show of the enemy's strength is unfolding. Out on a lone reconnaissance mission, pilot Wedge Antilles watches Imperial Star Destroyers gather like birds of prey circling for a kill, but is taken captive before he can report back to the New Republic leaders.
Meanwhile, on the planet's surface, former Rebel fighter Norra Wexley has returned to her native world — war weary, ready to reunite with her estranged son, and eager to build a new life in some distant place. But when Norra intercepts Wedge Antilles's urgent distress call, she realizes her time as a freedom fighter is not yet over. What she doesn't know is just how close the enemy is—or how decisive and dangerous her new mission will be.
Determined to preserve the Empire's power, the surviving Imperial elite are converging on Akiva for a top-secret emergency summit — to consolidate their forces and rally for a counterstrike. But they haven't reckoned on the Norra and her newfound allies — her technical genius son, a Zabrak bounty hunter, and a reprobate Imperial defector — who are prepared to do whatever they must to end the Empire's oppressive reign once and for all.
That's it for Star Wars Bits for now. Stay tuned for more soon!