Comic-Con 2015: Conan O'Brien Holds Auditions To Replace Hugh Jackman As Woverine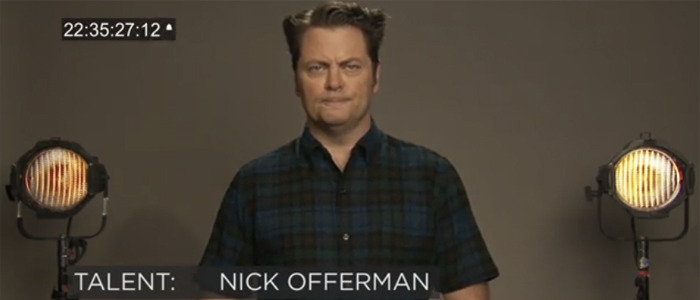 We all know that Hugh Jackman can't be Wolverine in the X-Men franchise forever, and we've heard that the Australian actor is done with the role that made him a star after he completes a starring turn in the third Wolverine film in 2017. But don't worry, because he's also slated to pop up in X-Men: Apocalypse and may have a cameo in Deadpool.
Still, someone has to pick up the claws and replace Jackman eventually. So as part of his stream of Comic-Con themed episodes this week, being shot in San Diego, Conan revealed some of the auditions to play Wolverine with names like Nick Offerman (Parks and Recreation), Michael Sheen (Masters of Sex,) Hannibal Buress (Neighbors), Patton Oswalt (Agents of S.H.I.E.L.D.) and more in the running.
Watch the Conan Wolverine auditions after the jump!
Honestly, there are plenty of people who would pay good money to see Nick Offerman play Wolverine after that audition. Also, having Silicon Valley star Thomas Middleditch audition for the role is not only funny, but it's the second time he's played a member of the X-Men. Comedian Pete Holmes used to do a recurring sketch where he played Professor X and fired one of the mutants on his team, and Middleditch played Gambit in one of the videos. You can watch that over here.
Obviously no one from this stream of totally genuine auditions is going to get the role. But it does make us wonder just what will happen with the character once Hugh Jackman truly is finished with the part?
Eventually Wolverine will likely be rebooted, but 20th Century Fox may give the character some time to sit on the bench before bringing him back out again. After all, the X-Men films have given Wolverine a pretty sizeable chuck of story time in every X-Men film with the exception of X-Men: First Class (though Jackman did cameo in the prequel). Some fans don't like how the series revolved around Wolverine in that manner, so maybe once Jackman is done the X-Men franchise will continue with a new focus.
Anyway, 20th Century Fox has a big panel here at Comic-Con where we're expecting some footage from X-Men: Apocalypse and maybe some other surprise announcements about the future of the X-Men franchise and other comic book properties. Stay tuned to find out what we learn, and follow all of our Comic-Con coverage right here.
What do you think should be done with Wolverine?