Comic-Con 2015: Conan O'Brien Becomes The Doof Warrior From 'Mad Max: Fury Road'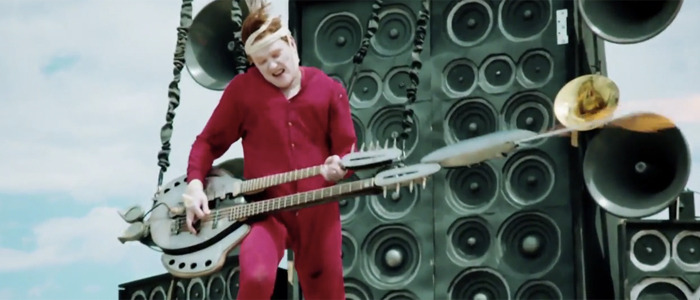 In case you didn't know, in addition to all the geeks and nerds that have descended upon San Diego for Comic-Con this week, comedian Conan O'Brien is also here with his late night TBS talk show. It's the first time a late night show has been recorded during the festivities, and Conan even has shows this weekend when the convention really gets busy.
Last night brought the first episode from San Diego, and with it came this fantastic cold open showing how Conan and his trusty comic sidekick Andy Richter made it to town. Hint: it's a tribute to Mad Max: Fury Road, with Conan as the Doof Warrior with the flaming guitar and Richter as Immortan Joe. It's just as awesome as you hope it will be.
Check out the Conan O'Brien Mad Max: Fury Road bit after the jump!
That spaceship set is cool as hell, and even the opening credits are geek-themed! This is surely just the first of many wonderful Comic-Con themed segments that Conan will be doing throughout the rest of the week and into the weekend. His round-up of guests includes The Hunger Games: Mockingjay – Part 2 cast tonight, as well as the casts of The Walking Dead and Game of Thrones.
If you missed the show, you can catch pretty much everything at the official Team Coco website. Personally, I recommend the opening monologue, which is full of Comic-Con jokes, and you can watch that right here.
Last night the first guests were Lord of the Rings trilogy and The Hobbit bookend star Elijah Wood, who talked about being in disguise around the Comic-Con show floor last year in a Michael Myers mask. And there was also Chris Hardwick, host of the Nerdist podcast and Comedy Central's @midnight, who also happens to be a moderator of many panels here at the convention. There's also supposed to be a surprised cast revealed at Comic-Con who will then appear on Conan's show afterwards. So stay tuned for more on that.
Conan's Comic-Con episodes are being taped at San Diego's historic Spreckels Theatre each night this week through Saturday, July 11th, including two rare weekend shows. The episodes will air on TBS at 11pm (ET/PT) each night and will be available across TBS and Team Coco's digital and mobile platforms the following day. We'll have plenty more from Conan's Comic-Con shenanigans as the convention continues so stay tuned.