Comic-Con 2015: First Look At The Dark Knight's Gadgets From 'Batman V. Superman'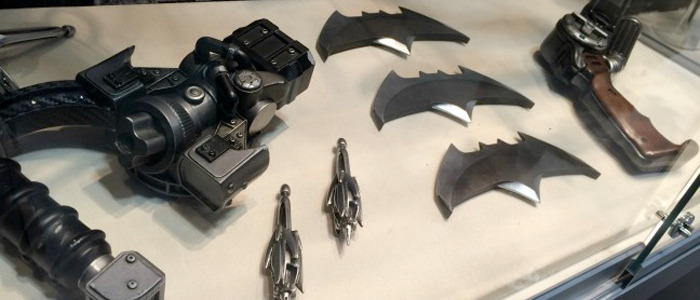 Comic-Con is officially underway here in San Diego, and Preview Night kicked off the pop culture convention last night giving us an early look at what all your favorite movies, TV shows, comic books and more have to show off.
There's plenty of cool sights to see on the show floor, but perhaps as a tease of the goodies to come from Warner Bros. Pictures and DC Entertainment this weekend, we got a first look at some of the gadgets that Ben Affleck will be using as the Caped Crusader in Batman v. Superman Dawn of Justice. Check out the Batman v Superman gadgets after the jump!
Here's Batman's gadgets that were on display at the Mattel booth on the show floor:
As you can see in a couple of the photos (some come courtesy of THR), there's some pretty vague descriptions given to some of the items on display. For example, there's the Tech Cowl, which looks like a complicated little helmet. Perhaps this is something that Batman wears when he's piloting his new aerial vehicle? It definitely looks like something that could be worn while piloting a vehicle.
Meanwhile, that big gun is described as a rocket launcher, and there's also sticky bombs paired with the weapon. It's not hard to figure out what those would be used for. And there's also Batman's traditional grappling gun on display, along with some slick new Batarangs as well. Otherwise, some of the other devices are merely called Bat Gadgets, and we might not find out what those do until the film hits theaters. Though one of them looks suspiciously like a fire extinguisher.
And if you're looking for a better glimpse at some of the wardrobe from Batman v. Superman: Dawn of Justice, these can also be spotted on the show floor:
This is the first time we've been able to see Batman's metal suit in person, and it appears to just fit over The Dark Knight's traditional cape and cowl. Speaking of which, it can't be stated enough just how buff Ben Affleck's version of Batman is in this movie. He clearly has bulked up, and whether or not it's because he's preparing for a fight with Superman, this is the beefiest Batman we've seen on the big screen.
Sadly there's not much new to see on the Wonder Woman or Superman front, but seeing these suits in person is rather impressive. All the suits are so meticulously crafted, and they look fantastic upon much closer inspection.
This is likely just a small treat compared to what Warner Bros. Pictures and DC Entertainment will have to show us with the studio's panel invading Hall H on Saturday. We'll have some big updates over the next few days, so stay tuned.
What do you think of Batman's new gadgets in Batman v. Superman: Dawn of Justice?