Stand With Jennifer Lawrence In New 'Hunger Games: Mockingjay - Part 2' Teaser And Poster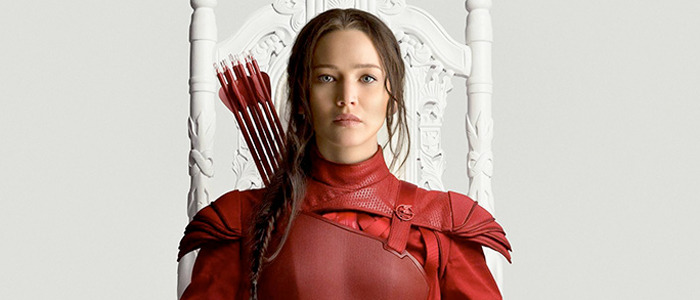 Hot on the heels of the recent batch of character posters for The Hunger Games: Mockingjay – Part 2, one more poster for the film, featuring the titular symbol of the rebellion, has surfaced online. That's just in time to hype Lionsgate's Comic-Con panel on Thursday for the franchise's conclusion.
The poster features Jennifer Lawrence, decked out in red gear, sitting on President Snow's white throne. She looks rather regal and radiant. In addition, Lawrence also stands tall on a new motion poster teaser where she's atop a statue featuring a familiar symbol of the rebellion other than the flaming gold Mockingjay. Check out the Mockingjay Part 2 teaser and poster after the jump!
Here's the motion poster teaser and the vibrant poster with Jennifer Lawrence:
That bright red armor is pretty bad ass, and it contrasts perfectly with the rest of the white poster. And it's all part of the campaign of District 13 to stand against The Capitol and imagine a better tomorrow. It sounds like there's more coming tomorrow once the panel for The Hunger Games finale takes the stage in Hall H. We'll be there to provide coverage from the panel, so stay tuned to see what happens.
Watch the trailer for The Hunger Games: Mockingjay – Part 2 right here.
The blockbuster Hunger Games franchise has taken audiences by storm around the world, grossing more than $2.2 billion at the global box office. The Hunger Games: Mockingjay – Part 2 now brings the franchise to its powerful final chapter in which Katniss Everdeen [Jennifer Lawrence] realizes the stakes are no longer just for survival – they are for the future.
With the nation of Panem in a full scale war, Katniss confronts President Snow [Donald Sutherland] in the final showdown. Teamed with a group of her closest friends – including Gale [Liam Hemsworth], Finnick [Sam Claflin] and Peeta [Josh Hutcherson] – Katniss goes off on a mission with the unit from District 13 as they risk their lives to liberate the citizens of Panem, and stage an assassination attempt on President Snow who has become increasingly obsessed with destroying her. The mortal traps, enemies, and moral choices that await Katniss will challenge her more than any arena she faced in The Hunger Games.
The Hunger Games: Mockingjay – Part 2 arrives on November 20th.