'South Park' Renewed For Three More Seasons, Extends Hulu Deal For All Episodes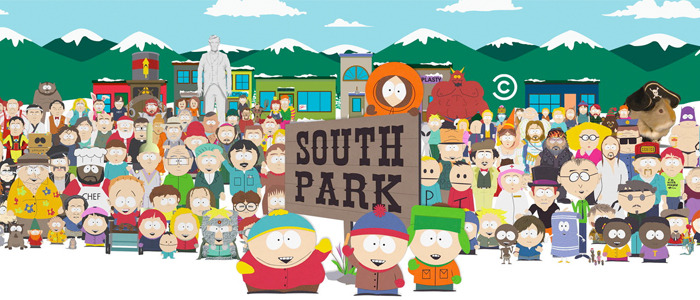 If the foul-mouthed antics of South Park haven't gotten old for you after 18 years, then you'll be happy to know that Comedy Central just solidified a deal for more craziness from the small Colorado mountain town.
Trey Parker and Matt Stone have just struck a new deal with Comedy Central to have South Park renewed for three more seasons, each with 10 episodes. And the network's deal with Hulu to stream all the episodes, new and old, has just been extended as well. Find out more about the South Park renewal after the jump!
This new deal will take the show through 2019, into its 23rd season, bringing the total of episodes of 304 when all is said and done. It will also take them into their 20th year of production on the show, and that's pretty impressive for an animated series.
And for those who like to go back and watch the old episodes, or don't have a cable subscription to keep up with the new seasons, Hulu has also extended their deal with Comedy Central for the entire library of 18 previous seasons as well as all the forthcoming new episodes yet to be aired.
Parker and Stone will continue to write, direct and edit every single episode of South Park, just as they have done since it began in 1997. The dynamic duo said in a statement:
"We love working for Doug and with everyone at Comedy Central. They've given us an insane level of artistic and creative freedom for almost 20 years. They walk the walk."
In a recent interview on IGN's Podcast Unlocked with Ryan McCaffrey, Parker and Stone also said that they don't intend on quitting until they get canceled, though they do think about walking away from time to time:
Parker: "Every season, about three shows in, we say this should be the last season. Then we go away for a couple months and we're like, 'That was pretty good, let's do it again.'"
Ryan McCaffrey: "Have you thought about what the last episode of South Park would be?"
Parker: "I think it's gonna end with a fizzle for sure. We're gonna go, 'F*** this, man' and walk away."
Stone: "Some sort of a whimper. Either drop the mic, get sued, get thrown off cable television..."
Parker: "We've thought that for 18 years, 'They're gonna cancel us for sure.' We're waiting to get canceled for 18 f***ing years.
Stone: "We won't stop until we get canceled. We're renewing. They have to f***ing cancel us, goddammit!"
South Park is certainly one of the more unique shows on TV, bridging the fast-paced creative environment of Saturday Night Live with the world of animation. Crafting every episode in just six days allows Parker and Stone to be far more topical and relevant than any other animated show on television, and their irreverent sense of humor has made it a comedy staple. It's good to know South Park isn't going anywhere anytime soon.
The 19th season of South Park premieres on September 16th.