'Bridge Of Spies' UK Trailer: The Cold War Gets Hot For Tom Hanks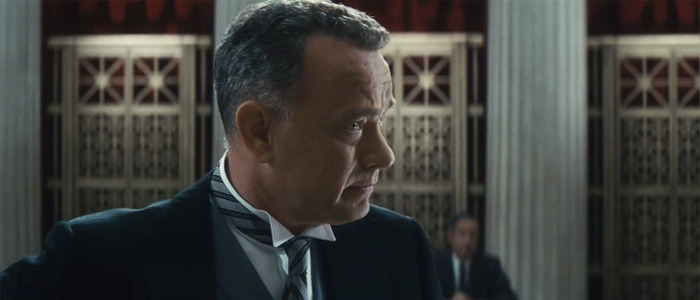 Following the first domestic trailer released last month for Steven Spielberg's latest thriller Bridge of Spies, a new international trailer has surfaced across the pond, laying out more of the Cold War set true story starring Tom Hanks.
There's some moments from the first trailer here, but there's a slew of new footage that really digs into the meat of this captivating story, showing off plenty of what promises to be another stirring performance from Spielberg's Catch Me If You Can and Saving Private Ryan star as a man thrust into a precarious and dangerous situation in unfamiliar territory.
Watch the Bridge of Spies UK trailer after the jump!
This trailer definitely gives us a better idea of the international tension happening at the time of the story, not to mention providing more insight into just what our captured spy was doing before he was apprehended.
Just going by this trailer, it seems like Steven Spielberg has crafted a sharp thriller, the kind that Hollywood doesn't seem to make that often anymore. Tom Hanks looks to deliver another award-worthy performance for his role in this shaky negotiation between the United States and Russia.
A dramatic thriller set against the backdrop of a series of historic events, DreamWorks Pictures/Fox 2000 Pictures' "Bridge of Spies" tells the story of James Donovan, a Brooklyn lawyer who finds himself thrust into the center of the Cold War when the CIA sends him on the near-impossible task to negotiate the release of a captured American U-2 pilot. Screenwriters Matt Charman and Ethan Coen & Joel Coen have woven this remarkable experience in Donovan's life into a story inspired by true events that captures the essence of a man who risked everything and vividly brings his personal journey to life.
Directed by three-time Academy Award®-winning director Steven Spielberg, "Bridge of Spies" stars: two-time Academy Award winner Tom Hanks as James Donovan; three-time Tony Award® winner Mark Rylance as Rudolf Abel, a KGB agent defended by Donovan; Scott Shepherd as CIA operative Hoffman; Academy Award nominee Amy Ryan as James' wife, Mary; Sebastian Koch as East German lawyer Vogel; and Academy Award nominee Alan Alda as Thomas Watters, a partner at Donovan's law firm. The film is produced by Spielberg, Marc Platt and Kristie Macosko Krieger with Adam Somner, Daniel Lupi, Jeff Skoll and Jonathan King serving as executive producers. The screenplay is by Matt Charman and three-time Academy Award winners Ethan Coen & Joel Coen.
The film hits theaters on October 16th.