Darth Vader Will Be In 'Star Wars: Rogue One'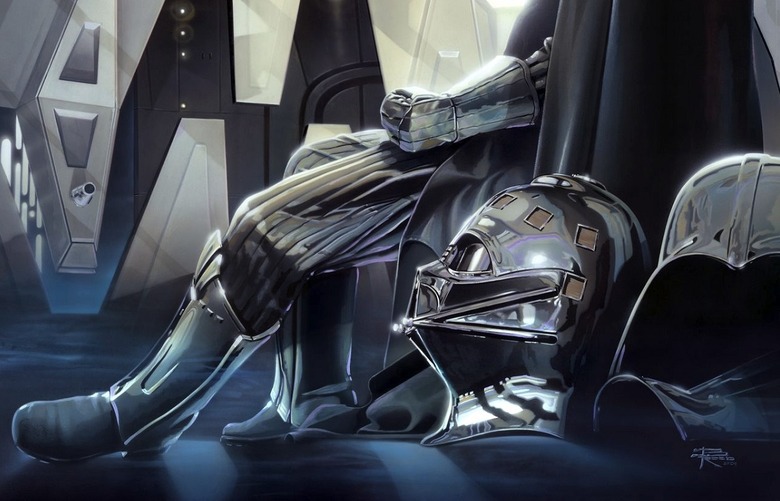 We are likely to learn bit more about Star Wars: Rogue One at Comic Con this week, but before we do a new scoop has landed online that reveals that Darth Vader will appear in Gareth Edwards' Star Wars Anthology film. Hit the jump to find out more about this Darth Vader Rogue One rumor.
Birth.death.movies has learned that Darth Vader will appear in Star Wars Anthology: Rogue One, but he will not be the film's main antagonist. According to the report, the darth Sith lord will "be working behind the scenes, pulling strings and will appear onscreen" ... "via viewscreen or holo projection or something." We don't yet know if the character will actually appear in person in the story somewhere — you have to understand these scoops come from insiders who only know pieces of the film at this point.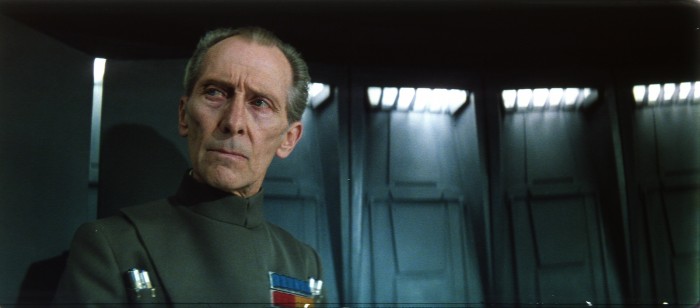 Who will be the villain in Star Wars: Rogue One? We don't know. The prime suspect from Star Wars canon would be Grand Moff Tarkin, the commander of the fully operational Death Star from Star Wars: A New Hope. But Devin's sources were unable to confirm his appearance. There is always the possibility that the villain will be someone we've never seen or heard of before. This is, after all, set between Revenge of the Sith and A New Hope, which is a large gap of uncharted Star Wars canon (at this point).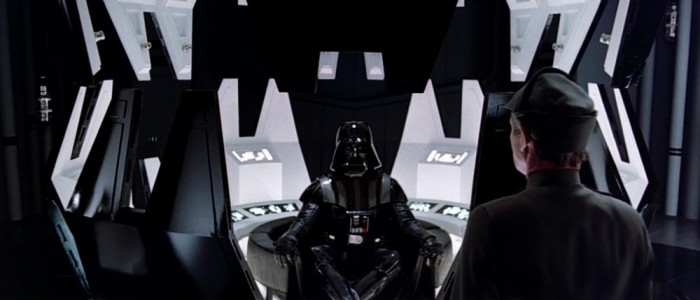 James Earl Jones recently provided voice for Darth Vader for the Disney XD Star Wars Rebels animated series, so if the darth Sith lord returns in a life action film I expect he will again be voiced by Jones.
When Disney originally announced that they would be making stand-alone Star Wars films, set within the Star Wars universe  but telling stories not related to the Skywalker saga, I had assumed that these films would have little connection to the previous installments.
Oh how wrong I was. We were the first to tell you that Star Wars: Rogue One would be a heist movie about rebels trying to steal the plans to the Empire's greatest weapon — the death star. We've since heard rumblings that the second Star Wars Anthology film (the one Josh Trank was previously attached to) would focus on bounty hunter Boba Fett. And there have been rumors of the other planned Anthology films focusing on Yoda, Obi-Wan and more. It seems to me that the Anthology films are so far showing us more of what we know, while the Skywalker saga Episodes will introduce a whole new generation of characters, planets and story.
"Rebel spaceships, striking from a hidden base, have won their first victory against the evil Galactic Empire. During the battle, Rebel spies managed to steal secret plans to the Empire's ultimate weapon, the DEATH STAR, an armored space station with enough power to destroy an entire planet." ?The opening crawl of Star Wars: Episode IV A New Hope
 Rogue One is set between the films Star Wars: Episode III Revenge of the Sith and Star Wars: Episode IV A New Hope, during the Age of the Empire Directed by Gareth Edwards, based on an idea by John Knoll and a screenplay by Gary Whitta and Chris Weitz, the story follows a "band of resistance fighters unite for a daring mission to steal the Death Star plans." Unlike the previous live-action Star Wars films, Rogue One will not revolve around the Jedi or the Force. Edwards described the film at Celebration Anaheim as existing in a more "gray" area than the black and white of the original trilogy, touting that the film would feel "Real...This is a real place that we're really in...". Star Wars: Rogue One will hit theaters on December 16th, 2016.