'Edward Scissorhands' 25th Anniversary: Mark Englert Lithograph And New Blu-Ray Revealed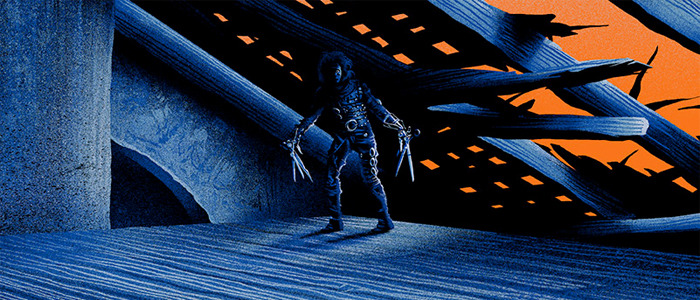 This December will mark the official 25th anniversary of Edward Scissorhands, easily one of the best films director Tim Burton has ever made. It represents a fond memory of a time when the filmmaker was still cooking up original stories for the big screen.
To honor this milestone anniversary, Fox Home Entertainment has a restored, special edition Blu-Ray hitting shelves in October. That's a few months away, but it will be available for pre-order at Comic-Con this week, along with a limited edition lithograph created by Gallery 1988 artist Mark Englert. It's a pretty wonderfil piece of work that you can see in full after the jump along with details on the Edward Scissorhands 25th anniversary Blu-Ray.
Here's Mark Englert's beautiful lithograph from Entertainment Weekly, along with a preview of the Blu-ray packaging:
We don't have specifics on the new special features for this anniversary release, but it will reportedly have never-before-seen bonus footage. Plus, it comes with everything you see in the image above, which seems to include a heart cookie cutter, some kind of paper art that could have been made by Edward Scissorhands, and bush sculpture air freshener.
Those items don't really feel like enough for me to buy this film starring again on Blu-Ray, but it might be an appealing package for someone who hasn't bought a high-definition version of the Tim Burton film yet. But at the very least, it might be time for a return to this suburban Frankenstein tale starring Johnny Depp, Winona Ryder, Anthony Michael Hall, Dianne Wiest, Alan Arkin and Vincent Price.
Once upon a time in a castle high on a hill lived an inventor whose greatest creation was named Edward. Although Edward had an irresistible charm, he wasn't quite perfect. The inventor's sudden death left him unfinished, with sharp shears of metal for hands. Edward lived alone in the darkness until one day a kind Avon lady took him home to live with her family. And so began Edward's fantastical adventures in a pastel paradise known as Suburbia.