'Chris Tucker Live' Trailer: The 'Rush Hour' Star Returns To Stand-Up Comedy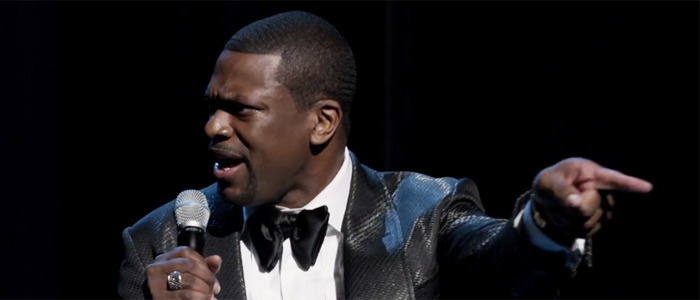 Before Chris Tucker became the star of the Rush Hour franchise, not to mention annoying the hell out of Bruce Willis in The Fifth Element, he was a rising stand-up comedian. And now the actor is returning to the stage with his first-ever stand-up special.
Netflix has given Tucker the chance to show he's still got the goods for comedy with Chris Tucker Live, and the first teaser trailer for the stand-up special has just debuted online. It's certainly an energetic tease of the comedy Tucker has in store for viewers. Watch the Chris Tucker Live trailer after the jump!
Even though Tucker started in stand-up, he headed to the movies before ever getting his own recorded special. So while it feels a little weird that this is Tucker's first stand-up special, it makes sense with regards to the rest of his career. Speaking of which, it sounds like the actor's work in Hollywood will be a big part of this special.
Tucker delivers some more of his Michael Jackson antics that popped up occasionally in the Rush Hour franchise. Thankfully, it's not mean-spirited (at least not in the trailer), as Tucker is also a genuine fan of the late pop icon. Since this is just a teaser, it's hard to get a vibe for the quality of material and how personal his bits might be. But it's definitely full of Tucker's signature energy, for better or worse, and he's rather excited about this opportunity:
"I'm thrilled to be partnering with Netflix, one of the true global leaders in entertainment, on my first comedy special. Before people started seeing me in movies, I was doing standup. It's always been a part of me, and now I'm excited to share it with my fans around the world."
Ted Sarandos, Netflix Chief Content Officerm adds, "Chris Tucker is a true global movie star and a one-of-a-kind talent whose remarkable energy, delivery and original style make him one of the funniest comedians of our time. We cannot wait to share his distinct and hilarious voice with our members across the globe."
This is just one more stand-up special to join Netflix's solid library of original stand-up content from the likes of Aziz Ansari, Chelsea Handler, Chelsea Peretti, Nick Offerman and more. Chris Tucker Live was filmed at the Historic Fox Theatre in Atlanta, the actor's hometown, and it premieres exclusively on Netflix on July 10th.