'Sanjay's Super Team' Images: Gods Become Heroes In New Pixar Short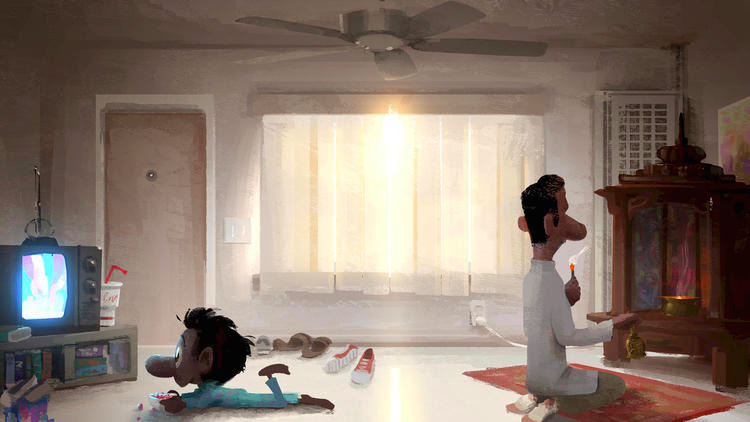 Pixar has two films in theaters in 2015, which really means the studio has four films: two features, and two shorts. November 25 sees the release of The Good Dinosaur, which will be preceded by the short Sanjay's Super Team.
We've seen some concept art from the short (such as the image above), created by Pixar Animation Studios artist Sanjay Patel. Inspired by Patel's own experience, the short features a boy who is more interested in cartoons than his family's religious practices, but who ultimately envisions the Hindu gods Hanuman, Durga, and Vishnu, as a sort of Avengers-like super-team.
Now the first Sanjay's Super Team images are out, and you can see them below.
First, here's what we know about the short film:
The seven-minute short begins with young Sanjay watching cartoons and eating cereal in a bland, beige room as his father jingles a bell, beckoning him to join in meditation. Reluctant and bored by the ceremony, Sanjay begins daydreaming a kind of ancient, Hindu version of "The Avengers," with the gods appearing like superheroes. As the daydream progresses, the color, light and animation of the film grows increasingly dazzling and cosmic, and Sanjay grows closer to understanding his father's inner world.
Producer Nicole Paradis Grindle tells USA Today,
Patel's animation very clearly comes from a different cultural place than all the other stories we've told before. And for kids who come from these backgrounds to see themselves on screen, it's exciting for us.
Patel had previously explained how powerful it was to be able to make the short:
If I could, I would go back to the 1980s and give my younger self this short. I want to normalize and bring a young brown boy's story to the pop culture zeitgeist. To have a broad audience like Pixar's see this ... it is a big deal. I'm so excited about that.
Patel and Grindle will appear at Comic-Con this Thursday, July 9, from 11:00am-to-12:00 p.m. for a panel called "The Super Story Behind the Pixar Short Sanjay's Super Team." That will take place at the Indigo Ballroom at Hilton San Diego Bayfront.