Paul Feig Reveals New 'Ghostbusters' Proton Pack Images To Help Cosplayers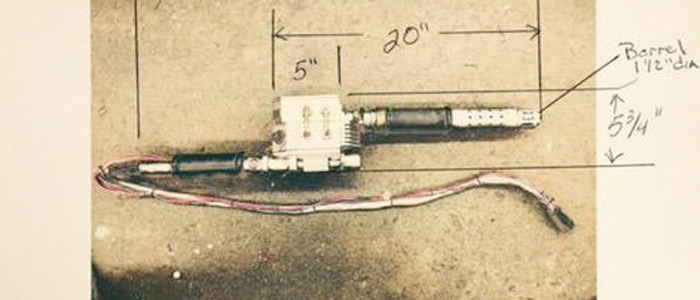 Last week director Paul Feig revealed images of the new gear that Melissa McCarthy, Kristen Wiig, Kate McKinnon and Leslie Jones would be wearing in the reboot of Ghostbusters. We got a glimpse of the new jumpsuits and also the proton packs they'll be wearing, though we haven't seen the stars suited up just yet.
But Ghostbusters fans are eager to get suited up in the new gear on their own as they've been asking Feig on Twitter to get a better look at the proton packs, so they can build their own. And Feig is a pretty nice guy, so he provided some new images with some helpful specs about the size of the neutrino wand and the pack itself.  See the Ghostbusters reboot proton pack images below!
Here's what Feig provided on Twitter, along with some guidance about the straps for the pack:
Basically just orange backpack straps with gray trim. I don't have much more info than that at the moment. Low-tech. https://t.co/SnGrhzI5wr

— Paul Feig (@paulfeig) July 5, 2015
Close enough. Ours have grey trim on the outer edges but orange is the key. Tech it down, though, so not so new. https://t.co/53DlaS3dpq

— Paul Feig (@paulfeig) July 5, 2015
This is a very cool thing for Feig to do. It's also fascinating to see how eager fans are to get a head of the curve and look like the new Ghostbusters squad, even though the movie is still over a year away. Feig's brief comments about the tech also give us an idea what we can expect from the new iteration of Ghostbusters. Much like the original team, the gear isn't meant to be advanced like today's contemporary technology. Feig emphasizes the low-tech nature of their gear.
But if I had to guess, I think all the low-tech gear will just be how the team starts off their paranormal hunting endeavors. And by the end of the movie, they'll probably have all-new gear that makes the proton packs a little more sleek and advanced. That's just speculation on my part, but it would make sense for the team to start off being more similar to the original team, and then differentiating themselves with new proton packs by the end.
We haven't seen much from the new Ghostbusters so far, but just going by the gear we've seen, at least the production design is right on the money. Let's just hope the script delivers something worthy of the Ghostbusters name. Some story details surfaced last month giving us a small idea of what to expect, and it doesn't sound half-bad. Stay tuned for more.