The CW's 'Legends Of Tomorrow' Debuts Flashy Superpowered Concept Art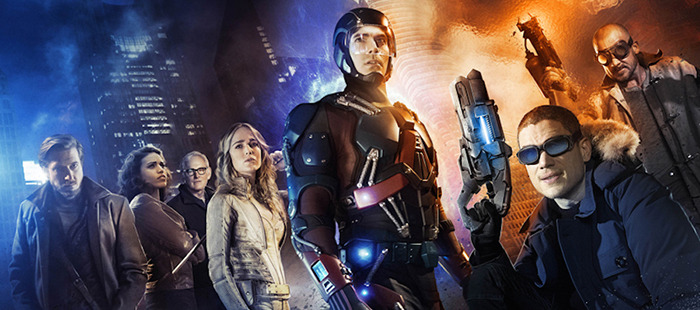 Back in May, thanks to the traditional upfronts presentations from all the major networks, we got a fun teaser trailer The CW's new DC Comics TV series adaptation DC's Legends of Tomorrow. The show is spinning off the established shows Arrow and The Flash, following time-traveling rogue Rip Hunter (Arthur Darvill), who is tasked with assembling a disparate group of both heroes and villains to confront an unstoppable threat.
The show may not hit the air until 2016, but Warner Bros. Television is bringing the show to Comic-Con along with the new CBS series Supergirl and The CW's other two aforementioned DC Comics series. And just before fans get a new glimpse at the show, a pretty slick piece of concept art has surfaced online showing the titular team using their superpowers in a pretty flashy spectacle.
Check out the Legends of Tomorrow concept art after the jump!
Click the image to see a larger, higher resolution version:
Entertainment Weekly debuted the above image in their Comic-Con preview (which is where we've been getting glimpses of Batman v. Superman: Dawn of Justice in a batch of new images and scene descriptions as well). Showrunner Phil Klemmer had a bit to say about this team who will be trying to stop the villain Vandal Savage from destroying time itself, and they're not exactly the most efficient heroes:
"They're screw-ups. Instead of tiptoeing through history, they're plodding through it, leaving their footprints and fingerprints and constantly having to wonder whether they're going to screw the future up rather than fix it... It's going to be total madness"
Not only is there time travel in this series, but it's set in the same universe as The Flash and Arrow (you can even see the former in the above image). The question is whether or not this series will impact the world of The Flash and Arrow or if this merely happens in another timeline (something not uncommon in comic book story arcs), because it sounds like time will be messed with quite a bit. Klemmer added:
"Who can resist the urge to correct the past or to investigate the future? The idea of traveling through time has a caper quality to it, and that's what we're looking forward to. Yes, there will be the big 'try to stop Vandal Savage' [plot], but people will inevitably become diverted on their little side missions and when people are trying to fix their own timeline, that's when you really start screwing things up."
I've yet to really dive into The Flash or Arrow, mostly because I wasn't impressed with the first few episodes of the latter and just gave up. But I've heard that both shows have really come into their own and work much better than a show like Gotham, which I found supremely disappointing. Legends of Tomorrow sounds like a cool series, and it just might convince me to catch up on the other two shows before it arrives next year.
When heroes alone are not enough... the world needs legends.  Having seen the future, one he will desperately try to prevent from happening, time-traveling rogue Rip Hunter is tasked with assembling a disparate group of both heroes and villains to confront an unstoppable threat — one in which not only is the planet at stake, but all of time itself.  Can this ragtag team defeat an immortal threat unlike anything they have ever known? DC'S LEGENDS OF TOMORROW stars Victor Garber ("The Flash," "Alias"); Brandon Routh ("Arrow," "Superman Returns"); Arthur Darvill ("Doctor Who"); Caity Lotz ("Arrow"); Ciarra Renee ("Pippin"); Franz Drameh ("Edge of Tomorrow"); with Dominic Purcell ("The Flash," "Prison Break"); and Wentworth Miller ("The Flash," "Prison Break"). Based on the characters from DC Comics, DC'S LEGENDS OF TOMORROW is from Bonanza Productions Inc. in association with Berlanti Productions and Warner Bros. Television, with executive producers Greg Berlanti ("Arrow," "The Flash," upcoming "Pan"), Marc Guggenheim ("Arrow," "Eli Stone," "Percy Jackson: Sea of Monsters"), Andrew Kreisberg ("Arrow," "The Flash," "Eli Stone," "Warehouse 13") and Sarah Schechter ("Arrow," "The Flash," upcoming "Pan").
Are you excited for DC's Legends of Tomorrow?