VOTD: Pitch Reel For Paramount's Abandonded 'John Carter Of Mars'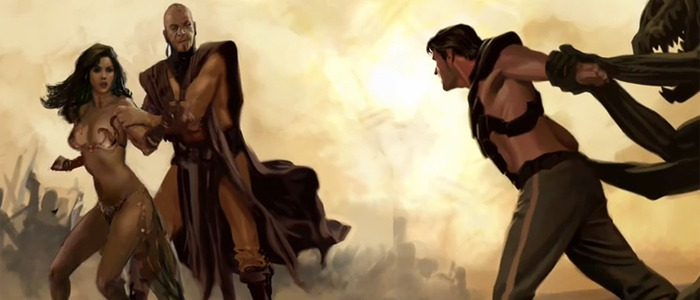 Before Disney brought John Carter to movie theaters, resulting in one of the biggest box office bombs in recent memory, the film was in development at Paramount Pictures. Sky Captain and the World of Tomorrow director Kerry Conran was attached to direct the adaptation of Edgar Rice Burrough's classic sci-fi novel John Carter of Mars, but it never came to fruition before the rights lapsed and ended up at the House of Mouse.
But for anyone who has ever wondered what this first iteration of John Carter of Mars might have looked like, a presentation reel has surfaced online with some very impressive designs that would have been awesome to see on the big screen. Watch the John Carter pitch reel after the jump!
AICN founder Harry Knowles, who was a producer on this abandoned version of the sci-fi tale, posted the video above. The reel has made the rounds online before, but this is the best quality version we've seen thus far. And as you can see, there are some cool details in this reel full of concept art and animatics, though it doesn't give us a good idea of how the narrative would have played out as an entire film.
There are some clear differences in what Conran wanted to do with John Carter of Mars and what we ended up seeing in Disney's big screen version, but it also seems like some of these designs may have ended up informing what ended up in the final adaptation as well. The alien race seems to be much larger, and the concept art for the settings feel a little more expansive and intricate, but the color palette and human character designs aren't too far removed.
At one time, Jon Favreau was also attached to Paramount's version of John Carter of Mars, but this was before Iron Man was part of his career. If Favreau would have directed this movie, someone else might have ended up behind the camera for Iron Man, and who knows how that would have impacted the Marvel universe?
Personally, I don't think Disney's John Carter is the massive disappointment it was made out to be. It's a fine sci-fi adaptation, but it just didn't make money back for Disney, so that's why it's been disparaged so much. Otherwise, I think it has the spirit of the classic story, and delivered a mostly satisfying adventure. It's honestly a shame we won't get to see any sequels play out. But since this is Hollywood we're talking about, there's likely to be some kind of reboot of the property sometime down the road.