Hello Kitty Movie Now In Development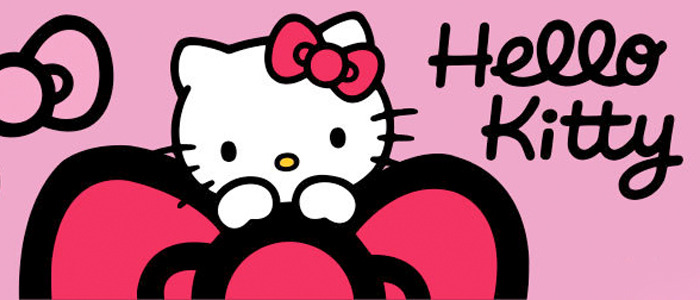 No global brand is safe from Hollywood. The latest iconic character to get the big screen treatment comes from Japan as the lifestyle Sanrio has struck a movie deal for their popular creation Hello Kitty to hit cinemas around the world sometime in 2019.
The brand can be seen all over the world, turned into stuffed animals, backpacks, shirts, and there's been several animated television series geared towards kids. So it was inevitable that the character would jump to the big screen. Find out more about the Hello Kitty movie after the jump.
First of all, for those who don't know anything about this characters, this is how Sanrio describes the female gijinka (personification of a cat) on their official Facebook page for the character:
Hello Kitty lives in the suburbs of London with her parents and her twin sister Mimmy. She has lots of friends at school with whom she shares many adventures. Her trademark is her red bow that she always wears over her left ear. Hello Kitty is as heavy as three apples and as tall as five apples.
I'd hate to find out how many apples I weigh. Anyway, Sanrio also list her interests as traveling, listening to music, reading, eating yummy cookies, and making new friends, and she collects small, cute objects like ribbons, hair accessories, candy, stars, and goldfish. She's just a normal anthropomorphic cat!
You may not know this, but Hello Kitty is actually 40 years old, though it feels like the brand has only gotten massively popular in the past few years. Somehow all of this has turned into a $7 billion global sensation that not only counts millions of children has fans, but also adults too, especially in Japan. And that's all without spending any money on advertising. 
Deadline reports the company behind Hello Kitty created their own Sanrio Media & Pictures Entertainment in the United States just last month in order to start getting their characters and brands into the entertainment business. The company had already sold the rights to their Mr. Men and Little Miss characters to Fox Animation in January, and now they're looking to bring other characters such as My Melody and Little Twin Stars to the world of movies as well.
Hollywood is all about brand recognition nowadays, but not all popular characters and brands are good for feature films. Hello Kitty is clearly popular enough for a movie to have an audience, but that doesn't mean it'll be good. But when something like The LEGO Movie worked so well, it's clear that anything is possible, and studios want that kind of success for these kind of brands. If anything, a Hello Kitty movie will certainly rake in the international box office dollars, and that's a big motivator for studios lately.
Is anyone out there interested in a Hello Kitty movie?