'Independence Day: Resurgence' Teaser Attached To 'Terminator Genisys' This Weekend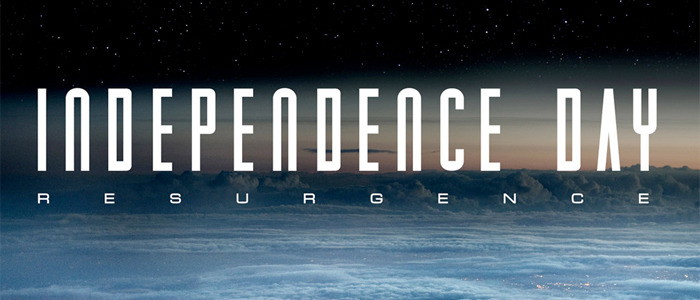 Just over a week ago, the official title of the long-gestating sequel to Independence Day was revealed. A live press conference showed off a quick title treatment revealing Independence Day: Resurgence as the name of the sequel that's been in the works for about 20 years. This weekend, there might be another treat in store for theater-goers.
Since it is actually Independence Day on Saturday, July 4th, 20th Century Fox will have a teaser trailer for IDR attached to Terminator: Genisys. But there's a catch. Find out more about the Independence Day 2 teaser trailer below!
UPDATE: A couple viral teasers have surfaced on Instagram and Twitter. Check them out below!
Jeff Goldblum posted this on his new Instagram account:
Plus Roland Emmerich used Twitter to tease the sequel even more:
The enemy returns. #IDR pic.twitter.com/9IOM3ylWgi

— Roland Emmerich (@rolandemmerich) July 4, 2015
And finally, the sequel's Twitter account sent these out:
The fight for mankind continues. Independence Day Resurgence is coming. Summer 2016. #IDR pic.twitter.com/4VPPxFtszB

— Independence Day (@IndependenceDay) July 4, 2015
Are you ready for the Resurgence? #IDR pic.twitter.com/cS8Lnecj5f

— Independence Day (@IndependenceDay) July 4, 2015
AICN was first to report on an IDR teaser trailer hitting theaters this weekend when a theater employee alerted them to a document showing that it would be playing with various screenings of Terminator: Genisys. However, it will only be playing in theaters on Saturday only, for obvious reasons. I called one of my local AMC Theatres multiplexes and they also confirmed this was happening. That source added that the teaser trailer was around 35 seconds long. (Another theater chain told us it is a CinemaScope format trailer, running 37 seconds.)
But before you go buying your tickets to catch the latest Terminator just to see this trailer (since the movie isn't really worth seeing), we want to warn you that it might not have any footage from the movie to show. You might remember that when Fox revealed the title (along with a press conference), they did so with this video:
That video happens to be 25 seconds long, and if you slap a green band on that from the MPAA, that could equal the running time that we just confirmed for the teaser trailer. So there's a chance that you might just see this title treatment on the big screen to tease the sequel and no real footage at all.
At the same time, the film is halfway through production. We just attended a press junket in the middle of shooting, so there's certainly footage that could be used to make some kind of teaser trailer. There's also the chance that they created something completely different to tease the movie without any footage used, which would be pretty cool.
So if you happen to catch it this weekend before it ends up online, and there's footage to be seen, don't hesitate to let us know in the comments below. Otherwise, if this video makes it online sometime soon and isn't just a repeat of the title treatment, we'll post it right away.  In the meantime, check out the line-up of cast members assembled for the sequel, and stay tuned for more details on IDR coming sometime soon.