New 'Pride And Prejudice And Zombies' Photos Arrive Before Comic-Con Appearance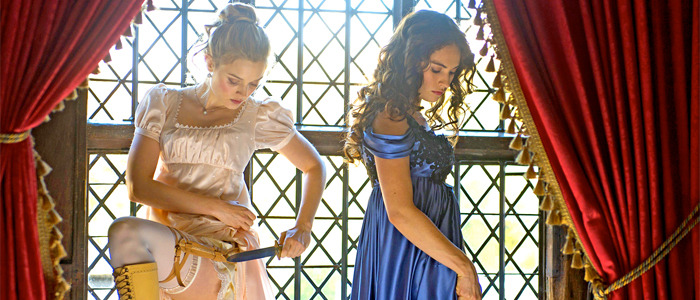 It's been a long road for the adaptation of Seth Grahame-Smith's period romance/horror remix Pride and Prejudice and Zombies to get made, but the film will arrive in theaters next February.
So far we've only seen a brief glimpse of the Regency era zombie flick, but now some new photos have debuted online showing off the deadly corset-wearing ladies of the film and just a hint of the zombie mayhem that will invade the fancy setting. And if you're expecting a campy mix of zombie action and Jane Austen's classic, apparently that's not the case.
Check out the new Pride and Prejudice and Zombies photos after the jump!
Featured in the images are Lily James (Cinderella), Sam Riley, Bella Heathcote, Douglas Booth, Charles Dance and more. Jack Huston, Matt Smith and Lena Headey also star in the film, but no sign of them in these stills just yet. It looks like director Burr Steers (Igby Goes Down) is definitely going for a bit of sex appeal with the film, but it doesn't seem to be gratuitous or stupid. Hopefully the movie also follows those guidelines.
Speaking of which, even though adding zombies to the Pride and Prejudice and Zombies story feels inherently silly, Steers says:
"The idea was that it was Pride and Prejudice set in this alternate world and then for everyone to play it straight. The movie's big wink is that there is no big wink. It's definitely not camp."
And the ladies of the film won't be damsels in distress relying on Mr. Darcy to do the zombie killing. Lily James says she and her sisters will get to see plenty of action, "Rather than knitting and crocheting, they're polishing muskets." She also calls Elizabeth Bennet "the most badass zombie slayer there is."
Thanks to Entertainment Weekly for debuting the images before Pride and Prejudice and Zombies makes a splash at Comic-Con with a panel in Hall H on July 11th. We'll likely see some footage (maybe a trailer) from the movie next week, and maybe that will be enough to get people more interested in this odd retake on a classic novel. As of now, I'm on the fence, but maybe my mind will change after seeing a glimpse of the flick in San Diego. Stay tuned for more.
Screen Gems releases Pride and Prejudice and Zombies on February 5th, 2016.