'Batman V. Superman' Scene Descriptions Surface, Brainiac Planned For The Future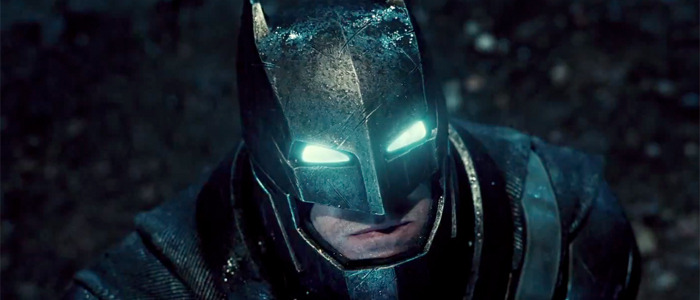 Hot on the heels of new images from the anticipated Warner Bros. Pictures and DC Entertainment production of Batman v. Superman: Dawn of Justice, some new details have surfaced online with regards to a few scenes from the comic book tentpole.
In the upcoming Comic-Con issue of Entertainment Weekly three scenes are briefly described, two involving Bruce Wayne (Ben Affleck) and his trusty butler Alfred (Jeremy Irons), and also the main event, Batman fighting Superman (Henry Cavill). Check out the brief Batman v Superman scene descriptions after the jump.
Here's what EW describes in the print edition of their magazine (via ComicBook.com):
Bruce Wayne (Ben Affleck) and his loyal butler, Alfred (Jeremy Irons), are gravely intoning their lines into a burned-out fireplace, as Bruce prepares for his Valley of Elah moment with Superman. The billionaire vigilante appears weary but determined, not unlike the actor portraying him.
In his editing suite in Pasadena last month, Snyder showed off early passes of the money sequence, a rainy rooftop battle between the two capes. There's an undeniable thrill to watching these pop culture icons go at it–throwing each other through walls and skylights.
Snyder also reveals a scene in the Batcave where Bruce Wayne outlines his motivations to a skeptical Alfred, a bit of realpolitik reasoning that weighs the morality of a preemptive strike on Superman against even the minimal chance of humanity's destruction.
Sounds like some pretty heavy stuff, especially on Batman's end. As for the battle, while I'm very interested to see the fight between The Dark Knight and The Man of Steel visualized, I hope it's just not more of the same kind of action we saw when General Zod fought Supes in Metropolis at the end of Man of Steel. Personally, I think the battle will be more brutal, and Batman will undoubtedly fight much differently than Zod with no superpowers at his disposal, so we'll see how it goes.
In addition, the same issue of Entertainment Weekly (via CBM) has some quick words from director Zack Snyder who revealed that Metallo was once considered to be a villain in Batman v. Superman: Dawn of Justice in the early stages of development. And he also teased another iconic Superman villain for future movies:
"I remember talking about 'What's the next villain?' 'We can't do another alien invasion.' Brainiac was definitely down the road. Metallo, I think, was going to be the main bad guy of this movie."
There have been rumblings that another fan favorite Superman villain will show up in this movie, but we'll let you go seek out that information for the sake of avoiding spoilers. But it sounds like Brainiac will end up giving Superman trouble sometime down the road. Maybe he'll end up creating problems for the entire Justice League. The script for Justice League: Part One by Argo scribe Chris Terrio is already finished, and production will begin sometime next year to meet the November 10th, 2017 release date.
Do you want to see Brainiac in the DC Comics cinematic universe?