Stephen Colbert Interviews Eminem For 20 Minutes On Public Access To Prepare For 'The Late Show'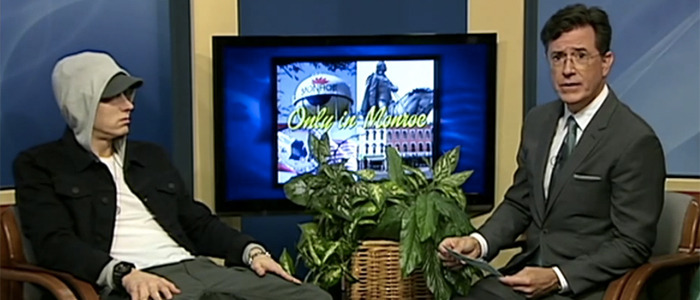 We're in the heart of summer, and while blockbuster season is keeping us occupied for the time being (not to mention Comic-Con next week), a part of me looks forward to the fall when new TV shows start to hit the air. One of those shows will be The Late Show with Stephen Colbert, and a new taste of what we can expect from David Letterman's replacement has just surfaced.
We've already seen a hilarious teaser for The Late Show, where Colbert shaved the famous "Colbeard," but now he's done some serious prepping for the show by taking over the public access show Only in Monroe, straight from Monroe, Michigan. And who better for Colbert to interview than Michigan native and rapping sensation Eminem. Oh, and the interview goes on for 20 minutes. It's just as awesome as you'd expect it to be.
Watch Stephen Colbert interview Eminem after the jump!
The Eminem interview begins at the 22-minute mark (via The Late Show with Stephen Colbert):
In some ways, it seems like Colbert is still in character as his dimwitted, alter ago from The Colbert Report, but at the same time, it's mostly just a schtick of him playing clueless when it comes to the career of Eminem. And that's what makes this extended interview with someone like Eminem so damn hilarious.
The questions that Colbert asks Eminem are perfect, and the rapper proves that he has great, subtle comedic timing (he almost breaks a few times). Some of the questions that Colbert asks Eminem are as follows:
Are you more political or more booty rhymes?
What kind of rap do you do? Are you like, song some and rap some like Bone Thugs n Harmony or are you more street like Will Smith?
Where do you hope this goes? Is this a career or more of a hobby?
How did you get down here, did you take I-75?
Even more impressive is that he sticks with Colbert for a straight 20 minutes. I would say that Eminem needs to do more comedy work like his cameos in Funny People and The Interview, but part of the appeal is his work as himself in small doses. At the same time, it would be amazing to see Eminem in a bigger comedy role.
If this is the kind of comedy we can look forward to from The Late Show, count me in. The Late Show with Stephen Colbert premieres on CBS this fall on September 8th.