'The Transporter Refueled' Trailer #2: We're Gonna Need More Men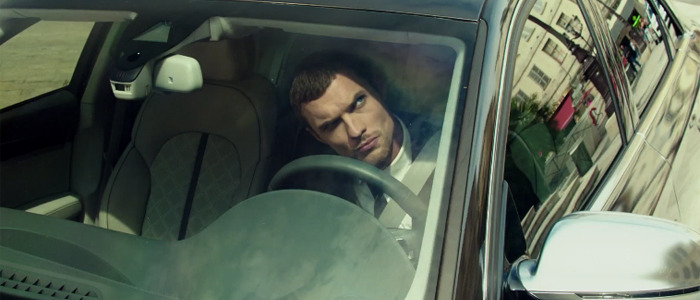 The Transporter is back, but this time it's not Jason Statham behind the wheel. Instead, Ed Skrein has stepped into the role of a former special-ops mercenary Frank Martin, who ends up being thrust into danger at every turn thanks to his job transporting classified packages for questionable people, with no questions asked.
We've already seen the first trailer for the franchise sequel/reboot The Transporter Refueled, but now we get to see more of the story in a second trailer. This time Frank is interrupted during time with his father (Ray Stevenson) when one of his jobs gets him in deep with the wrong people. Watch the The Transporter Refueled second trailer below.
As you can see, some bad Russian dude is mad when Martin's driving skills help some beautiful women steal a bunch of his money. So he kidnaps The Transporter's father. Honestly, I'm not sure why Martin is annoyed or even surprised at all this danger and intrigue when this job ends up getting him into deep trouble. This is what happens when you deal with shady people.
Anyway, this looks like a poor man's version of The Transporter, meant for the DVD bargain bin instead of the big screen. It's not that the original franchise was this game-changing action series, but Statham fit very well in the lead role. Sadly, Ed Skrein just doesn't seem to make this silly franchise work quite as well, though he's trying rather hard. Frankly, he looks like Nicholas Hoult's mean, older brother who will take your lunch money.
The Transporter Refueled is directed by Camille Delamarre (Brick Mansions), produced by Luc Besson, and also stars Gabriella Wright, Radivoje Bukvic, Anatole Taubman, and Tatiana Pajkovic
Frank Martin (played by newcomer Ed Skrein), a former special-ops mercenary, is now living a less perilous life – or so he thinks – transporting classified packages for questionable people. When Frank's father (Ray Stevenson) pays him a visit in the south of France, their father-son bonding weekend takes a turn for the worse when Frank is engaged by a cunning femme-fatale, Anna (Loan Chabanol), and her three seductive sidekicks to orchestrate the bank heist of the century. Frank must use his covert expertise and knowledge of fast cars, fast driving and fast women to outrun a sinister Russian kingpin, and worse than that, he is thrust into a dangerous game of chess with a team of gorgeous women out for revenge.
 The Transporter Refueled hits theaters on September 4th.