'American Sniper' Writer Takes Former Steven Spielberg Project 'Thank You For Your Service'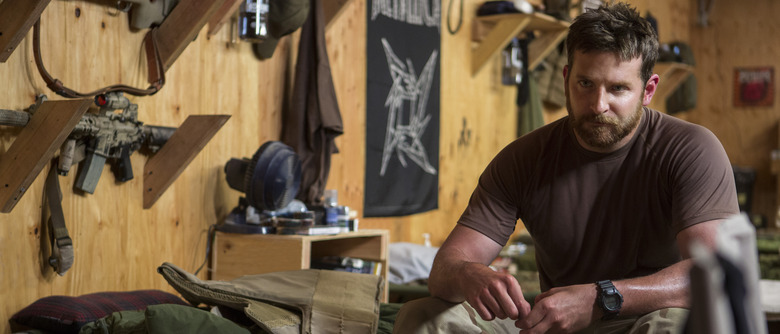 American Sniper writer Jason Hall is returning to the big-screen battlefield. He's set to make his directorial debut on Thank You For Your Service, a post-traumatic stress disorder (PTSD) drama set up at DreamWorks. Hall has big shoes to fill — Steven Spielberg was originally looking to direct. More details about the Thank You For Your Service Jason Hall news after the jump. 
Based on David Finkel's 2014 book of the same title, Thank You For Your Service has been in development for a few years already. DreamWorks scooped up the rights and set Hall to script back in 2013. Spielberg was considering directing, with Daniel Day-Lewis possibly starring. But, Showbiz 411 now reports, after reading the completed screenplay, Spielberg suggested Hall helm the movie himself. Spielberg will likely remain on board as an executive producer.
The film will follow three American soldiers who return home from the Iraq War. Still haunted by the terrible ordeals they experienced in the war, they struggle to readjust to civilian life. Hall dealt with similar themes in American Sniper, which followed Chris Kyle though his difficulties after the war. Kyle was eventually killed by a fellow vet with PTSD, both in the movie and in real life.
American Sniper earned Hall a spot on the 2013 Black List, and then an Oscar nomination. The film was a great commercial success as well, exceeding all expectations to gross $547 million worldwide. Hall's previous screenwriting credits included the indie dramedy Spread and the corporate thriller Paranoia.
It seems we've recently hit a wave of interest in stories of returning Iraq War veterans. Also in development is Judd Apatow's Redeployment, a dramedy about "soldiers who return to a country that isn't even that aware that we're at war." And Ang Lee is currently shooting Billy Lynn's Long Halftime Walk, about a group of soldiers who come back to the States for a victory tour.