Sequel Bits: 'Jurassic World,' 'Fear The Walking Dead,' 'Hocus Pocus 2'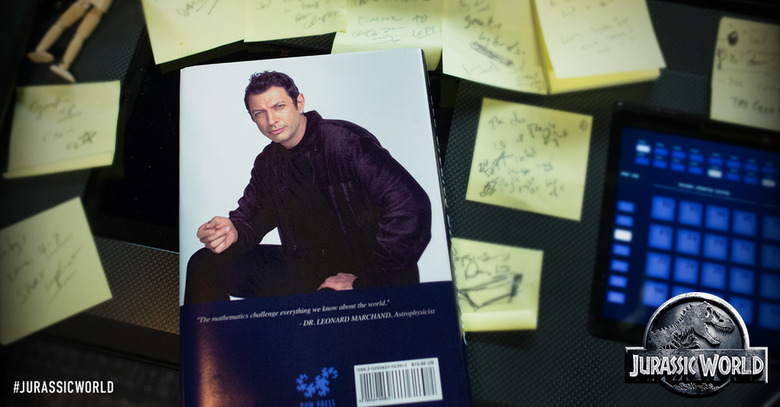 That image above (click to enlarge) is a shot of the back cover of Ian Malcom's book as seen in Jurassic World, via the film's official Twitter account. In addition to that, this edition of Sequel Bits features:
Jason Clarke talks about his initial reaction to a Terminator Genisys plot twist,
A new Fear the Walking Dead teaser has dialogue, but no zombies,
Bette Midler stumps for Hocus Pocus 2 during a live show,
Marlon Wayans threatens to make White Chicks 2,
and there's a behind the scenes video for Sharknado 3.
There's a bit new character change in Terminator Genisys — one that has been spoiled in posters and trailers, but which is still a big deal int he film. If you've managed to avoid this so far, be aware that spoilers for Terminator are ahead, even if they're the same spoilers that have been used as official marketing.
Jason Clarke told CinemaBlend that plot turn was surprising even to him, when he first read the script.
What the fuck is going on here? What did they send me? I don't want to play the villain. [But then, after reflection] For me it was, yeah, you go, ok, I'm the villain. I'm the protagonist. I'm the predator. I'm the chaser, but then when it resides, what I thought about it and read it again, John's at the heart of the story and the problem of the machines, of technology, you know.
This will be just one of many aspects of the film that will have audiences talking and arguing after Terminator Genisys opens this week.
***
There's a new teaser trailer for Fear the Walking Dead, and this one lets some of the characters speak. Fear the Walking Dead is a prologue to The Walking Dead, set in Los Angeles during the early days of the zombie apocalypse that ravages the country. As this promo shows, the plague isn't one that everyone takes seriously at first — but then, you know that would be the case.
Fear the Walking Dead premieres in August on AMC.
***
And then we've got some comedy beats. A rumor last year said that Hocus Pocus 2 was in development at Disney. That was killed off, but Bette Midler is evidently still hoping to make it happen. The star recently performed 'I Put a Spell on You' on stage, dressed in her costume from the film. During that performance, which you can watch below, she said"I'm ready for my sequel, Mr. Disney!"
Maybe the fact that Walt Disney is dead is really what's holding back this sequel. Regardless, watch the performance.
***
Marlon Wayans is teasing/threatening a White Chicks sequel, with a post on Instagram that says three hundred thousand likes may be enough to get a sequel going. It got over 425k (with many hundreds of thousands more likes on Facebook), so perhaps it's time to be wary of this one hitting theaters some time in the future. It's a project Wayans has teased before, but perhaps this social media momentum is what the effort was really lacking in the past.
***
And then there's Sharknado, the series that will never die. Sharknado 3 features multiple tornados full of sharks terrorizing the East Coast of the US — or the "feast coast" — with storms merging to create full-on Sharkicanes, as star Frankie Muniz jokes. Those storms have the power to move inland, so we're basically all screwed. Here's a new behind the scenes video for the film,
Sharknado 3: Oh Hell No!, from Asylum, also stars Tara Reid, Holly Madison, Mark Cuban, Cassie Scerbo, Bo Derek, David Hasselhoff, Jack Griffo, Kendra Wilkinson, Rick Fox, Ryan Newman, Cindy Margolis, Penn Jillette, Chris Jericho, Jerry Springer, Chris Kirkpatrick, Ann Coulter and Michele Bachmann. The film premieres Wednesday, July 22 at 9 PM on Syfy.