LOL: See Chris Pratt As Jason Statham Selling Steakums In Cut 'Saturday Night Live' Sketch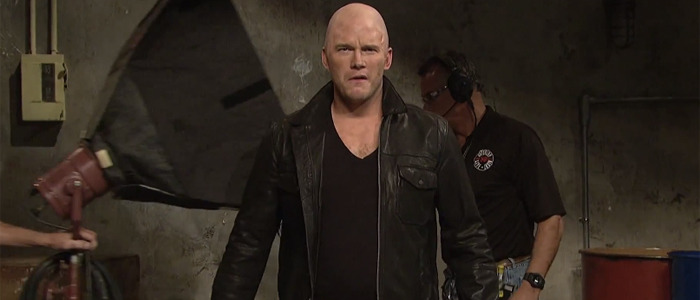 As a fan of Saturday Night Live, I've always wanted to see the sketches that end up getting cut for time. Since SNL is a live show, some sketches end up getting cut if the show runs long. But those cut sketches are usually recorded in the two-hour dress rehearsal that happens before the show airs live at 11:30 Eastern time.
Since SNL has found new life online with sketches that go viral with every new episode, there's finally a place for cut sketches to see the light of day. And we're lucky enough today that one such sketch has surface online months after the original episode aired. In the sketch, Chris Pratt plays Crank and The Transporter Jason Statham, selling a fine product called Jason Steakums, and they sound delicious. Watch Chris Pratt as Jason Statham after the jump!
Guardians of the Galaxy and Jurassic World star Chris Pratt hosted the 40th season premiere of SNL last September, and it was a solid episode for the most part (complete with a Marvel trailer spoof that had a Star Wars crossover theme). However, despite Pratt's amusing impersonation of Statham, it's easy to see why it didn't make the cut. The reaction from the audience was apprehensive to say the least, and it just never gets any momentum comedically beyond that. Still, Pratt in a bald cape with a gruff British accent is just grand schilling some gross frozen steak sandwiches is pretty funny by itself, so we'll give it an A for effort.
If we're honest though, there was no way that this was ever going to work as well as Jon Hamm's John Ham, or even the joint restaurant venture between Jon Hamm and Michael Buble. Still, I wouldn't mind picking up some Jason Statham's Jason Steakums from the local grocery.