James Gunn Says 'Guardians Of The Galaxy 2' Will Be "More Emotional"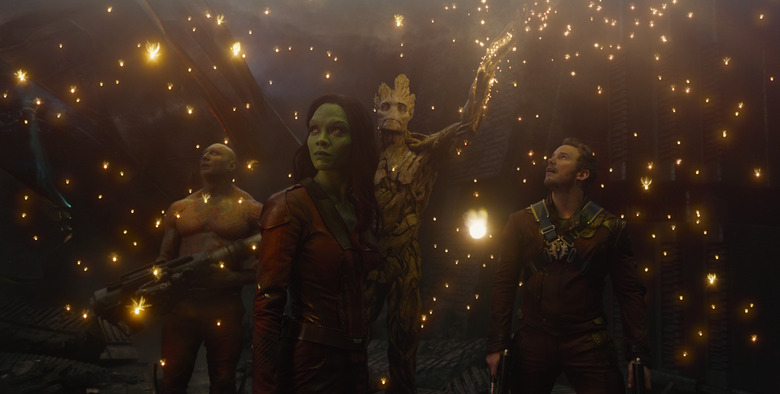 Between Star-Lord's mom and "We are Groot," Guardians of the Galaxy had plenty of tearjerking moments mixed in among the humor and adventure. But you may want to brace yourself for even more feels in the sequel.
Director James Gunn teases that Guardians of the Galaxy 2 will be "more emotional" than its predecessor, with a strong focus on fathers. Read the Guardians of the Galaxy 2 emotional comments after the jump.
Gunn teased Guardians of the Galaxy 2 in a chat with Collider:
It's gonna be exciting. I think it's a more emotional movie. I think it's both a bigger movie and a smaller movie 'cause we focus more intensely on some of the characters. We get to learn a lot about fathers in the second movie, and I think we focus a lot on that.
We already know the script made Chris Pratt cry, and now I guess the rest of us can look forward to crying over it as well.
The "fathers" theme is an obvious reference to Star-Lord's parentage, and Gunn confirmed on Facebook that yes, we will meet Star-Lord's dad. Beyond that, he also previously stated that Yondu, Star-Lord's father figure, would feature more prominently in the film. As would Gamora and Nebula, whose adopted dad Thanos is currently tearing through the MCU.
But Guardians of the Galaxy 2 won't just be about daddy issues. For one thing, we can look forward to some more killer tunes. "We haven't listened to Awesome Mix 2 yet, so we get to hear it in the sequel," said Gunn.
And there'll be plenty of laughs between the tears, as he assured fans on Facebook:
[T]he new script is actually funnier than the first script, or at least seems to be from the reactions. I don't have to introduce a bunch of new characters so it gives way more room for development – emotional stuff and humorous stuff. It's very freeing.
So, Guardians of the Galaxy 2 will be bigger and smaller, more emotional and funnier, with a retro soundtrack to rival the first. Sign us up.
Guardians of the Galaxy 2 arrives in theaters May 5, 2017.