Cool Stuff: Custom LEGO Sets For 'Jurassic World' Indominus Rex And 'Jurassic Park' Ford Explorer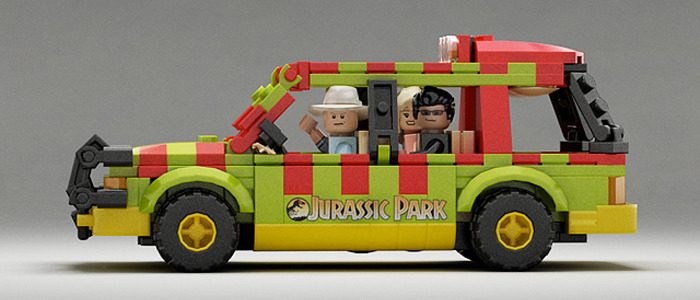 With summer passing by, the buzz surrounding Jurassic World has died down a bit, but though the film keeps breaking box office records. A new generation of kids has been wowed by dinosaurs on the big screen while fans of the original Jurassic Park have also been fairly impressed by the sequel, and both of those groups wants toys from the franchise.
While there are already official LEGO sets out there for Jurassic World, they're not exactly anything to write home about. Some of the LEGO sets feature vehicles that don't even appear in the movie, and the dinosaur figures leave something to be desired, too. That's why one fan has created a couple LEGO Ideas projects delivering a much better LEGO version of the Indominus rex, as well as a throwback LEGO set for the Ford Explorer from the original Jurassic Park.
Check out the custom Jurassic World and  Jurassic Park LEGO sets below!
The Jurassic Park Ford Explorer would go fantastically with that custom LEGO visitor center from Jurassic Park we just featured, but I will say that the design could likely be tweaked a bit. It needs windows, and can maybe take some cues from the Ghostbusters Ecto-1 LEGO set to help perfect the design.
But that Indominus rex is pretty damn cool (and there's also a comparable Tyrannosaurus rex waiting to be reviewed by LEGO). It's much better than dinosaur figures that come with the official sets, and it gives the dinosaurs some scale to go with the LEGO vehicles that are already out there.
However, seeing these sets become a reality, even if they get the right amount of votes to go in front of the LEGO approval board, may not be easy. The LEGO builder who created these two sets previously crafted a LEGO version of the Jurassic Park gate, complete with a tyrannosaurus rex and Ford Explorer. Here are some images of that set:
And while it got the right amount of votes to be approved by LEGO, the project was not greenlit. But if you want to support these sets, vote for the Indominus rex right here, and vote for the Jurassic Park Ford Explorer right here.
With all the hype around Jurassic World sprouting nostalgic love for Jurassic Park, it would be nice if there were some more collectibles paying tribute to the original film making their way to toy shelves. These LEGO sets are a good start, but some more detailed and impressive action figures would be pretty cool as well.