Arnold Schwarzenegger Gives New Details On 'Legend Of Conan'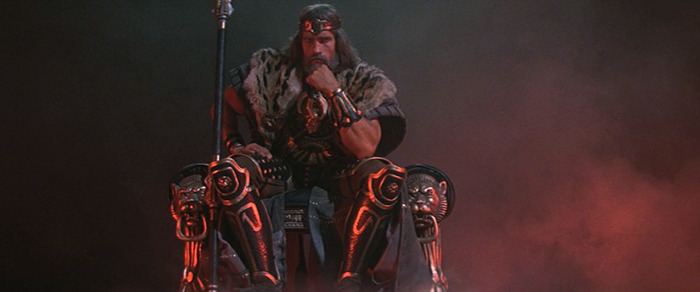 With Terminator: Genisys hitting theaters next week, Arnold Schwarzenegger is making the publicity rounds promoting the sequel/reboot, and that means he's getting questions about future projects that we already know are in the works.
One of those projects is Schwarzenegger's return to his epic character Conan The Barbarian, in a new film called The Legend of Conan. We've been hearing about the project since as far back as 2012, but it's taking awhile to get the project off the ground. But now that Schwarzenegger is done with Terminator (until the presumed sequel), it looks like The Legend of Conan may be next, and the action star gave some new details on the forthcoming film.
Learn more about The Legend of Conan plot details after the jump!
Speaking at the press junket for Terminator: Genisys (via Nerd Report), Schwarzenegger was asked about The Legend of Conan and what drew him back to the character:
"I was hoping to do another one, and I [liked] the idea of Conan having been king for a long time, then just threw it all away and went into retirement and went off into the mountains. That whole idea always appealed to me. Then of course he gets asked back because of some hideous and unbelievable things that are happening to the kingdom. So that's when the battle begins again."
As we heard previously, Fast and Furious franchise scribe Chris Morgan is behind the script. A few years ago, Morgan had this to say about his approach to Conan as a character, especially now that Schwarzenegger has aged considerably since playing him:
"I want the warrior whose joints have started to fuse together, who has to crack the cartilage so he can pick up a sword again. I want the guy who's not necessarily lost a step, but there's some rust he has to shake off. I want to embrace that. It makes it a greater hero stort. Conan needs to be faced with challenges. The greatest challenge to him isn't the armies that are set before him. It's, on some level, self-doubt, a little bit of slowing down and forcing yourself to be heroic beyond what people expect of you. What I don't want is for him to step back in and look the same. That would defeat the purpose of our story."
The more recent draft of the script comes from Andrea Berloff, and producer Fredrik Malmberg said last fall:
"We want to polish up the script, specifically about the characters but we don't think it will take long. We'll probably have this turned in around September after the holiday and then we'll take it to the studio and if they're happy, we can hopefully start in the Spring."
But here we are almost a year later, and the film still hasn't started production. And it appears the script still needs a little bit of work as Schwarzenegger also had this to say at the press conference:
"It needs some tweakage but really they've done an extraordinary job with it, very thoughtful so I'm looking forward to working with them on that as soon as this gets out of the way, because I'm very focused on one thing at a time. Then we do the next thing."
So it sounds like Schwarznegger was putting all of his focus into Terminator: Genisys, and once he's done promoting the film, he'll be ready to pay full attention to The Legend of Conan. And just because Schwarzenegger is older doesn't mean we should expect some kind of lighter fare for Conan. Chris Morgan recently said:
"A light-hearted Conan?! CROM! No. Our tone is a logical extension of the character established in the '82 film...but 30 years later. When we meet him again, Conan has been many things over the course of his life — a thief, a warrior, a pirate, a king, a legend — and is now an older man. Think Unforgiven...with a sword-wielding barbarian."
While Conan may not have as big of a fanbase as Terminator, there are still plenty of fans looking forward to seeing how Schwarzenegger falls back into this role after so many years. Now we just need to find out who will be directing the movie. Here's hoping the project ends up in production sooner than later.
Are you excited for The Legend of Conan?