Cool Stuff: Toys R Us Unveils Jabba's Rancor Pit Black Series Action Figure Set For Comic-Con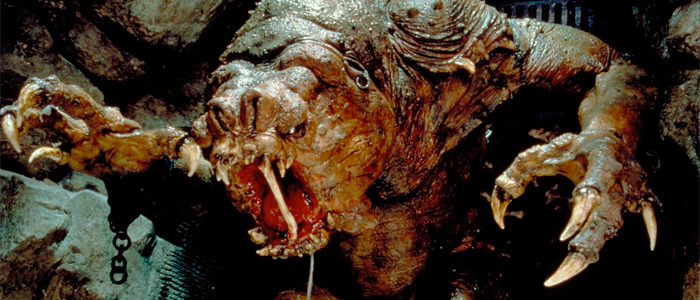 It's hard to believe, but San Diego Comic-Con is already less than two weeks away, and all of us here at SlashFilm will be running ourselves ragged to bring you all the latest news straight out of the convention center housing the biggest pop culture gathering in the country.
And along with the big news coming out of Comic-Con also comes cool goodies that will only be available for purhcase at the convention, and then eventually eBay for those who weren't lucky enough to be in San Diego. And for all you Star Wars fans, Toys R Us just unveiled a new Black Series action figure set that Return of the Jedi fans will love.
Check out the Jabba's Rancor Pit action figure set after the jump!
Thanks to StarWars7News.com for calling our attention to this Jabba's Rancor Pit figure set:
Star Wars™ fans can re-create one of the biggest battles and missions in the Star Wars Saga with this set from The Black Series. Jabba's Rancor Pit includes highly articulated 6-inch figures, all of which are featured in the epic Return of the Jedi scene where Jabba the Hut throws a Gamorrean Guard and Luke Skywalker into the Rancor Pit, while Princess Leia looks on in horror.
As you can see, this is a Black Series figure set, but with 3.75" figures, not the larger, more detailed 6" figures. That's counter to what the blurb above says, but the store later clarified that Jabba is a 6" figure, which created some confusion. If this was for the 6" figures, that Rancor would be massive. This is a great assembly of figures, but I'm a little disappointed that there's no Salacious Crumb to go along with this set.
While this action figure set will initially only be available at Comic-Con, it will also be available in Toys R Us stores and online later this year. So there's no need to spend an arm and a leg or wait in line for hours to pick this one up at the convention center.
Along with the announcement of this exclusive, Toys R Us revealed the rest of their Comic-Con toy releases (get the full list and see images at ComingSoon.net) that will be simultaneously be available at Entertainment Earth's booth #2343 and also online at Toysrus.com/ComicConvention from Thursday, July 9 through Sunday, July 12 during Comic-Con.
And if you're an avid collector of toys intended for more mature audiences, Toys R Us also announced a new shop called Collector Vector, which they say is "dedicated to collectible action figures, playsets and more for the mature collector community, available now in its stores nationwide and Toysrus.com." The section will include toys from NECA, McFarlane Toys, Mezco Toyz, Diamond Select, Bandai and more, covering brands such as The Walking Dead, Predator, Godzilla and much more. So for all you big kids out there, it might be time to head back to Toys R Us again.