'Narcos' Teaser: Netflix Gets Into The Blow Business With Pedro Pascal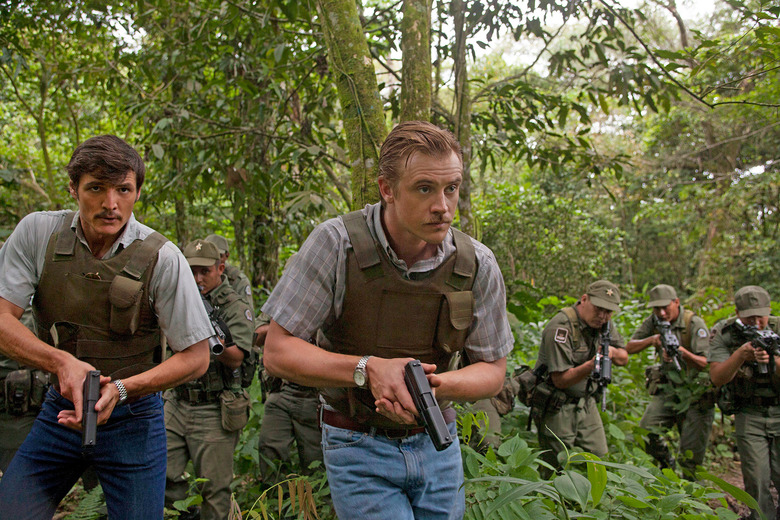 Game of Thrones fans still missing the Red Viper will be happy to know he'll be back on their TVs in just a couple months. Netflix has set an August debut date for Narcos, starring Pedro Pascal as a DEA agent chasing down legendary drug kingpin Pablo Escobar (Wagner Moura). Boyd Holbrook also stars as another DEA agent.
Watch the first Netflix Narcos teaser, and see another Narcos still, after the jump. 
The first Netflix Narcos promo is less a trailer and more of a blood-splattered, cocaine-covered release date announcement.
The first images are a bit more revealing. Here's Moura as Escobar, via EW.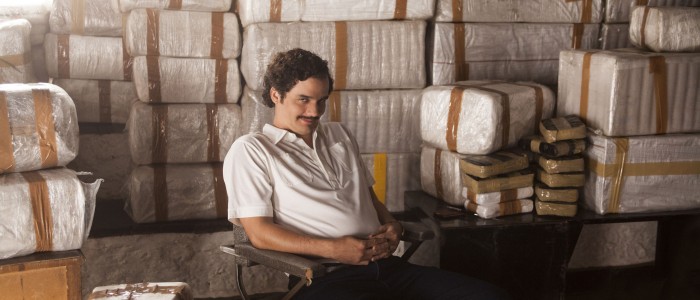 Narcos follows the growth of drug cartels around the world in the 1980s. Pascal and Holbrook portray real-life DEA agents Javier Peña and Steve Murphy, who worked to take down Escobar and his Medellín cartel at the height of his power. José Padilha (Elite Squad, RoboCop) directs and serves as executive producer along with Eric Newman (Children of Men).
All ten episodes of Narcos will hit Netflix August 28.
Narcos chronicles the gripping real-life stories of the drug kingpins of the late 1980s and the corroborative efforts of law enforcement to meet them head on in brutal, bloody conflict. It details the conflicting forces – legal, political, police, military and civilian – that clash in an effort to control the world's most powerful commodity: cocaine.
The series re-partners creator and executive producer José Padilha (Elite Squad, RoboCop) with acclaimed Brazilian actor Wagner Moura (Elite Squad, Elysium) as a captivating Pablo Escobar alongside Boyd Holbrook (Gone Girl) and Pedro Pascal (Game of Thrones) as real-life DEA agents Steve Murphy and Javier Peña. The series also features powerful performances by Colombia's Juan Pablo Raba (El corazón del océano), British theater star Joanna Christie (Once), Mexican sensation Stephanie Sigman (also seen later this year in the next Bond installment, Spectre), Colombian actor Manolo Cardona (Covert Affairs), Brazil's renowned André Mattos (Elite Squad), beloved Puerto Rican actor Luis Guzman (Boogie Nights) and the stunning Ana de la Reguera (Eastbound & Down, Nacho Libre) from Mexico.
Eric Newman (Children of Men), the team of Doug Miro and Carlos Bernard (Sorcerer's Apprentice) and Chris Brancato (Hannibal) also serve as executive producers on the series. Narcos is produced by Gaumont Television for Netflix.