Poster Posse Feels All The Feelings With Artwork Tribute To Pixar's 'Inside Out'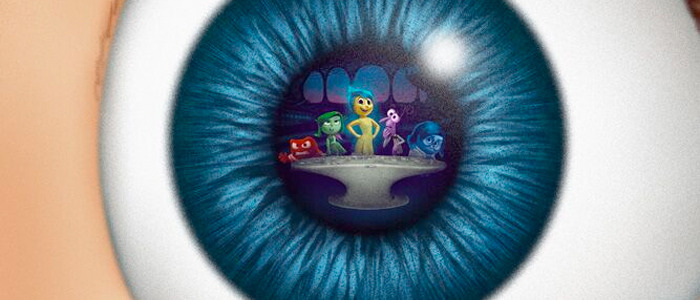 Last weekend, Pixar's Inside Out took audiences inside the mind of a young girl named Riley, and if you haven't had the chance to see it yet, just know that the film will certainly pull at your heartstrings in the best way possible.
Pixar's visualization of the voices in our head is full of charm, wit and tenderness, and Poster Posse has brought them to life in another way with a gallery of artwork honoring Joy (Amy Poehler), Sadness (Phyllis Smith), Fear (Bill Hader), Disgust (Mindy Kaling) and Anger (Lewis Black). They all get their own individual pieces while a couple puts them all in a single image.
Check out the Poster Posse Inside Out tribute after the jump!
My favorite run-through of all five emotions are the ones that feature an abstract corresponding face wrapped around the character. Though the simplicity of the bright profile images for each emotion is nice, I wish there were more pieces that focused on other parts of the movie such as core memories or even Riley's imaginary friend Bing Bong (he cries candy!). For example, the poster highlighting dream productions could have been so much more. But maybe these pieces were created before the artists who made them had seen the movie.
And while I enjoy the piece zoomed into Riley's eye, showing the emotions inside her mind, I wish the image of all five of them around the control center didn't look like a promotional image from a poster shrunk down into the eye. Anyway, most of these are still very bright and pretty. But to really get the right impression of Inside Out, you must go see the film yourself immediately.
From an adventurous balloon ride above the clouds to a monster-filled metropolis, Academy Award®-winning director Pete Docter ("Monsters, Inc.," "Up") has taken audiences to unique and imaginative places. In Disney•Pixar's original movie " Inside Out," he will take us to the most extraordinary location of all—inside the mind.
Growing up can be a bumpy road, and it's no exception for Riley, who is uprooted from her Midwest life when her father starts a new job in San Francisco. Like all of us, Riley is guided by her emotions – Joy (Amy Poehler), Fear (Bill Hader), Anger (Lewis Black), Disgust (Mindy Kaling) and Sadness (Phyllis Smith). The emotions live in Headquarters, the control center inside Riley's mind, where they help advise her through everyday life. As Riley and her emotions struggle to adjust to a new life in San Francisco, turmoil ensues in Headquarters. Although Joy, Riley's main and most important emotion, tries to keep things positive, the emotions conflict on how best to navigate a new city, house and school.