Kevin Feige Confirms Meeting With Ava DuVernay For 'Black Panther' But What About 'Captain Marvel'?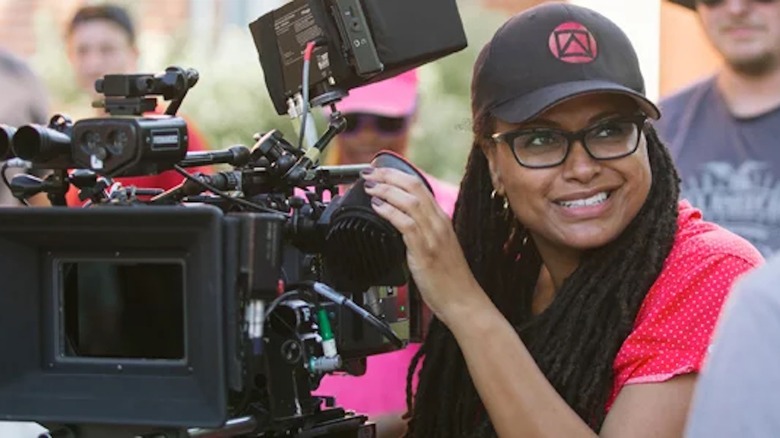 Marvel Studios
Even though Marvel Studios may not be bringing a panel to Hall H for the San Diego Comic-Con in a couple of weeks, that doesn't mean they won't have some big news to reveal this summer.
In addition to Ant-Man expanding the Marvel cinematic universe (don't forget that Paul Rudd has a role in Captain America: Civil War, too), Marvel's head honcho Kevin Feige has confirmed they're planning to have directors locked down for Black Panther and Captain Marvel very soon, and he even confirmed one of the names in the running for one of those jobs.
Find out more about the Black Panther and Captain Marvel directors after the jump!
In an interview with THR, Feige was asked how far away Marvel Studios was from landing directors for Black Panther and Captain Marvel, and he said, "I think by the end of the summer, we'll have most of those things. Black Panther especially." There's been a lot of demand for a female director coming aboard either or both of these movies, and Feige talked about the pressure to follow through on that desire as the industry starts giving more female filmmakers a chance at big budget films:
"It's an issue across the industry, for sure. And the issue is, we need to find the best director for any given movie. And that's really where we always start. If diversity is part of that, it's great. It's important. You will start to see things across the industry as a whole change as more filmmakers come up through the ranks and become part of making movies like this."
Like Feige says, it should absolutely be about finding the best director first, and if they happen to be female, that's great. But the industry as a whole certainly needs to start paying attention to female directors and giving them the same chances afforded to male directors (such as Colin Trevorrow directing Jurassic World, Josh Trank directing Fantastic Four and now Jon Watts directing the new Spider-Man).
So will we get a female director on a Marvel movie soon? Feige goes on to say:
"I think it will happen sooner rather than later, without giving too much away. But you look back sometimes, and it's just the nature of this industry, or the nature of the culture. But there's a big shift happening. What's exciting about Marvel, go back and look at the source material: It's been diverse in a cutting-edge way going back to the '60s, and I think we've represented that effortlessly and accurately in the movies we've made up to this point, but certainly with Black Panther and Captain Marvel doing it in a much more overt and purposeful way."
And while Feige initially didn't want to give anything away, when he was asked about the recent rumors of Selma director Ava DuVernay being under consideration to direct Black Panther starring Chadwick Boseman, the Marvel boss said, "We've met with her for sure. We've met with a number of people for a number of movies. She has been one of them."
That's hardly a confirmation that she's Marvel's top choice to direct Black Panther, but at least we know that she's a serious contender for at least one of the future Marvel movies in the works. As for Captain Marvel, there have been rumblings of Angelina Jolie being in the running for the job, so maybe both of these movies will have female directors.
Will we get news about Black Panther and Captain Marvel during Comic-Con despite Marvel's absence at the convention? We'll have to wait and see.
Black Panther is slated for release on July 6th, 2018 and Captain Marvel arrives November 2nd, 2018.