'Paranormal Activity: The Ghost Dimension' Trailer: Toby's Last Hurrah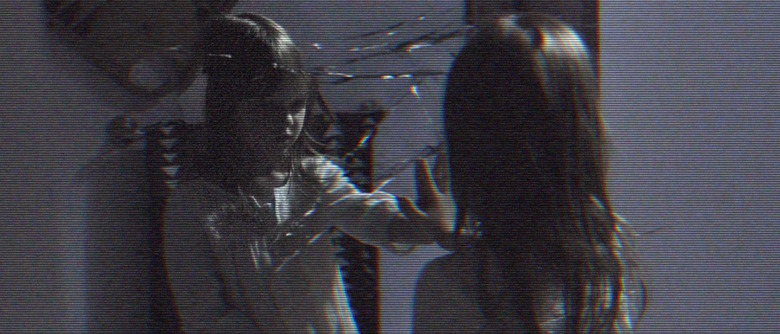 Paramount Pictures has unveiled the trailer for the fifth and supposedly final installment in the Paranormal Activity franchise, subtitled The Ghost Dimension. The story picks up with a new family this time, the Fleeges: dad Ryan (Chris J. Murray), mom Emily (Brit Snow), and daughter Leila (Ivy George).
But while the family is new, the threat is old. Shortly after moving they discover a video camera and a box of tapes in their home, and they get to encounter dear old Toby. Watch the first Paranormal Activity 5 trailer after the jump.
The Paranormal Activity 5 trailer went up on YouTube.
Earlier this week, producer Jason Blum promised The Ghost Dimension would be the final chapter for Paranormal Activity:
It's coming to an end. This is it, the finale. We're saying it before the movie opens. We're not going to grind this horror franchise into the ground.his will keep Paranormal Activity as part of this culture and this particular time in a really fantastic way [...] All the questions that everyone has asked from the past Paranormal Activity films: What does Toby look like? What's the backstory to the families? These questions have been teased out. Now they will be answered.
Well, probably. Blum continued:
At some point, might there be a reboot? You never know. We've never discussed it. (But) we made this movie like it's the end of this Paranormal line for sure.
The very lucrative Paranormal Activity franchise began in 2007 as a microbudget horror film by a first-time director (Oren Peli), starring total unknowns (Katie Featherston and Micah Sloat). Since then, it's expanded to five films (including Ghost Dimension) and a spinoff (2014's The Marked Ones).
In that time the mythology has continued to expand. Now The Ghost Dimension promises to bring it all together as the Fleeges see young Kristi and Katie, and as we finally get to see Toby. Meanwhile, the film also takes the franchise where it's never been before: 3D.
Directed by Gregory Plotkin, Paranormal Activity: The Ghost Dimension arrives in theaters on October 23.