The World Crumbles Into 8-Bits And Pieces In 'Pixels' Featurettes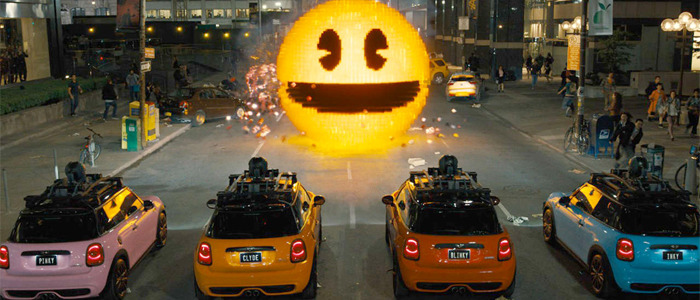 Summer isn't even halfway over, so there are still plenty of big movies coming to theaters in the next couple months. And surprisingly enough, one of the more entertaining films could end up being an Adam Sandler vehicle. Maybe I'm in the minority, but the trailers for the video game inspired action adventure comedy Pixels actually have me a little excited for this July release, despite the involvement of Sandler.
And if you've been wanting to know a little more about the film from director Chris Columbus (Home Alone, Harry Potter and the Sorcerer's Stone), a couple new featurettes have surfaced, diving into the 8-bit assault on Earth. Watch the Pixels featurettes after the jump!
The first featurette runs through the familiar video game characters, creatures and vehicles from 80s arcade games that we'll see attacking Earth, from Donkey Kong to Centipede to Galaga and more. And there's even a quick glimpse of Tetris in the movie this time. The second featurette shows us a little more of the original video game creation of Lady Lisa, played by Ashley Benson.
This looks like a lot of fun, and I think there's a good chance that having Josh Gad and Peter Dinklage step in for Adam Sandler's usual unfunny crew (even though Kevin James is still here) could be what makes this enjoyable. But we'll have to wait another month to find out.
In the meantime, watch the most recent trailer, check out the original short film that inspired the big screen adaptation, and read our interview with director Chris Colmbus right here.
As kids in the 1980s, Sam Brenner (Adam Sandler), Will Cooper (Kevin James), Ludlow Lamonsoff (Josh Gad), and Eddie "The Fire Blaster" Plant (Peter Dinklage) saved the world thousands of times – at 25 cents a game in the video arcades. Now, they're going to have to do it for real. In Pixels, when intergalactic aliens discover video feeds of classic arcade games and misinterpret them as a declaration of war, they attack the Earth, using the video games as the models for their assaults — and now-U.S. President Cooper must call on his old-school arcade friends to save the world from being destroyed by PAC-MAN, Donkey Kong, Galaga, Centipede, and Space Invaders. Joining them is Lt. Col. Violet Van Patten (Michelle Monaghan), a specialist supplying the arcaders with unique weapons to fight the aliens.
Pixels opens in theaters on July 24th.