Tim Doyle Recreates Your Favorite Movie Locations With UnReal Estate Art Show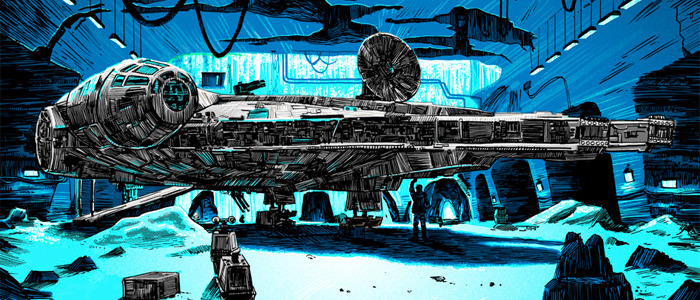 Just because Germain Lussier is no longer part of the SlashFilm crew doesn't mean we've lost interest in awesome artwork inspired by film and television. In fact, one of our favorite artists has an awesome new art show coming up inspired by some of your favorite movie locations.
Tim Doyle is unveiling a new show called UnReal Estate at the Spoke Art gallery in San Francisco, California on July 2nd. And in case you haven't guessed from the show's name, it will feature artwork inspired by some of the most famous locations from the big screen. Doyle has previously focused on TV locations for this kind of show, but this time he's focusing on cinema.
Check out some of the UnReal Estate art show pieces after the jump!
Thanks to io9 (by way of Germain Lussier, funnily enough) for bringing this show to our attention.
As you can see, places like the Ghostbusters firehouse, Bilbo Baggins' house in Bag End from The Lord of the Rings and The Hobbit, and Hogwarts School of Witchcraft and Wizardry from the Harry Potter franchise are accounted for. But there are also other cool entries like the futuristic noir version of Los Angeles in Blade Runner, Jack Rabbit Slim's from Pulp Fiction, and the house from The Royal Tenenbaums.
This marks the fourth year in a row Doyle has done a show like this, but as we noted previously, this is the first time the artist has decided to focus solely on movies. Personally , the Ghostbusters print is the one I'd get my wallet out for, but all these pieces look absolutely fantastic.
There will be 10 total pieces in the show, each with three different editions (the one of a kind original, a regular screenprint and a variant). All of the pieces will first go on sale during the opening reception on July 2nd from 6pm-10pm, and whatever is left over will go on sale the following week. In addition, the first 100 attendees will get a free screenprint inspired by Mad Max: Fury Road.
If you can't make it to the opening night reception, the show will be on display through July 25th at Spoke Art, 816 Sutter St. San Francisco, California. If you'd like more information, check out Spoke Art's official website right here.