Park Chan-Wook's Next Movie Is Lesbian Drama 'Fingersmith'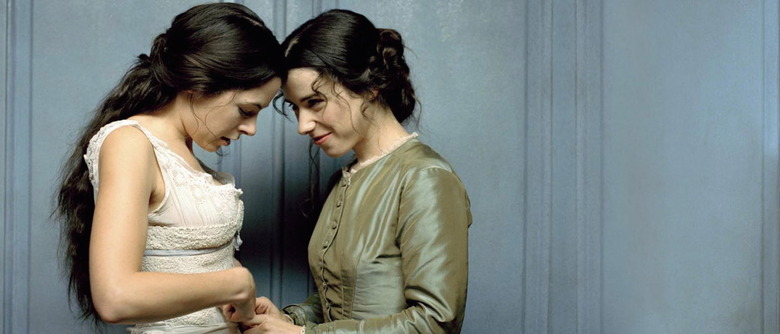 We may receive a commission on purchases made from links.
After a foray into English-language filmmaking with Stoker, South Korean director Park Chan-wook is taking inspiration from an English-language source for his next Korean-language film. He's currently at work on Fingersmith, based on a 2002 lesbian crime novel by Sarah Waters. Get all the details on the Park Chan-wook Fingersmith movie after the jump. 
Variety reports production on Fingersmith began last week near Nagoya, Japan, and will continue for at least another 70 days. The project is budgeted at around $10 million USD, and is expected to hit theaters sometime in 2016. Hopefully we'll get it in the U.S. not too long after that.
Adapted by Chung Seo-kyung (Thirst), Park's Fingersmith moves the action from Victorian-era London to Japan and Japan-occupied Korea in the 1930s. Waters' novel follows a petty thief who becomes involved in a con to take an heiress' money, but then begins to fall for the mark. The story was previously adapted into a BBC drama starring Sally Hawkins in 2005. (That's where the image at the top is from.)
Kim Min-hee (No Tears for the Dead) and Kim Tae-ri take the female leads in Fingersmith, and Ha Jung-woo (The Chaser) is the male lead. Park's Oldboy cinematographer Jeong Jeong-hun returns, as does Thirst production designer Ryu Seong-hee.
Park is best known for his "Vengeance trilogy," the most acclaimed of which is Oldboy. His other notable credits include Thirst and J.S.A.: Joint Security Area. 2013's Stoker is his first and so far only English-language film, but we heard last year that he was prepping a second, the sci-fi thriller Second Born.
Here's a more detailed synopsis of Waters' book via Amazon.
Sue Trinder is an orphan, left as an infant in the care of Mrs. Sucksby, a "baby farmer," who raised her with unusual tenderness, as if Sue were her own. Mrs. Sucksby's household, with its fussy babies calmed with doses of gin, also hosts a transient family of petty thieves—fingersmiths—for whom this house in the heart of a mean London slum is home.
One day, the most beloved thief of all arrives—Gentleman, an elegant con man, who carries with him an enticing proposition for Sue: If she wins a position as the maid to Maud Lilly, a naïve gentlewoman, and aids Gentleman in her seduction, then they will all share in Maud's vast inheritance. Once the inheritance is secured, Maud will be disposed of—passed off as mad, and made to live out the rest of her days in a lunatic asylum.
With dreams of paying back the kindness of her adopted family, Sue agrees to the plan. Once in, however, Sue begins to pity her helpless mark and care for Maud Lilly in unexpected ways...But no one and nothing is as it seems in this Dickensian novel of thrills and reversals.