'Hannibal' Canceled By NBC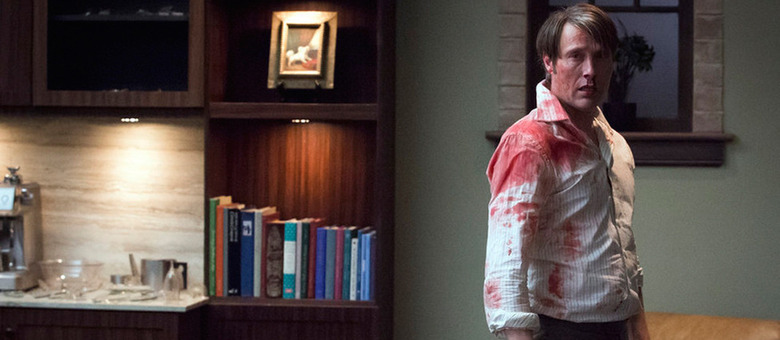 Producer Bryan Fuller had ambitious plans for his NBC series Hannibal, but he may never get to explore them on screen. NBC has cancelled Hannibal, just weeks after its third-season premiere. The show will finish out the third seasons, and then exit the network's schedule. There's nothing else quite like Hannibal on TV; now there won't even be Hannibal on TV.
NBC released a statement saying,
We have been tremendously proud of 'Hannibal' over its three seasons. Bryan and his team of writers and producers, as well as our incredible actors, have brought a visual palette of storytelling that has been second to none in all of television — broadcast or cable. We thank Gaumont and everyone involved in the show for their tireless efforts that have made 'Hannibal' an incredible experience for audiences around the world.
Hannibal has a strong and devoted fanbase, which is in no small part due to the mesmerizing personality of Mads Mikkelsen, who plays the title character.
The series is also slow, dark, and very talky. The fact that it never caught on with broad audiences may be disappointing, but is not entirely surprising. Only 2.57 million people watched the third-series premiere; that's down from the 3.27m watching the second season. With numbers like that, NBC's decision isn't a big surprise.
Bryan Fuller said,
NBC has allowed us to craft a television series that no other broadcast network would have dared, and kept us on the air for three seasons despite Cancellation Bear Chow ratings and images that would have shredded the eyeballs of lesser Standards & Practices enforcers. Jen Salke and her team have been fantastic partners and creatively supportive beyond measure. HANNIBAL is finishing his last course at NBC's table this summer, but a hungry cannibal can always dine again. And personally, I look forward to my next meal with NBC.
THR notes that the unavailable rights to the Clarice Starling character could have been at the center of the show's demise — dealing with that problem was going to be a big part of Fuller's aforementioned ambitious plans no matter what happened.
That "can always dine again" line will likely fuel cries to move the show to Netflix, Amazon (currently streaming the first two seasons via Prime), or some other digital provider. Indeed, it seems like new deal options are already being explored, though in reality those explorations have probably been ongoing for quite a while.
Second, we are exploring other options for future seasons. #Hannibal

— DeLaurentiis Co (@DeLaurentiisCo) June 22, 2015
Fuller, meanwhile, has other work to do, including the TV series adaptation of Neil Gaiman's novel American Gods, which is slated to air on Starz.