Cool Stuff: LEGO 'Jurassic Park' Visitor Center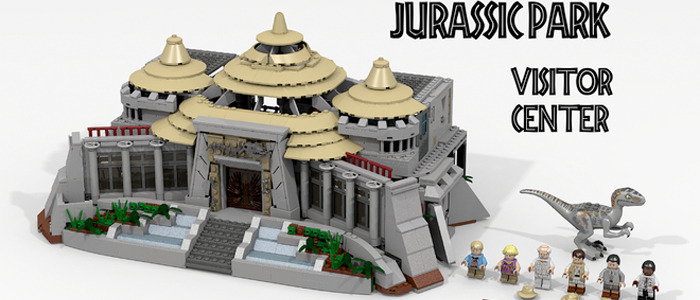 Since Jurassic World is all the rage right now, there's been plenty of nostalgia looking back at the original Jurassic Park. But we've yet to see a resurgence of toys dedicated to the original Steven Spielberg dinosaur adventure. However, that could change with a little bit of help from fans.
There's a project that just surfaced at LEGO Ideas that has an awesome building block version of the visitor center from Jurassic Park. It's an impressive set that actually has some pretty clever moving parts that allow you to see inside the visitor center, where more than a few pivotal locations from the film have been recreated.
Check out the LEGO Jurassic Park visitor center after the jump!
Here's a close look at the LEGO Ideas Jurassic Park project (via the From Director Steven Spielberg Tumblr):
As you can see, the rooms unfold to show all the key locations from inside the visitor center. There's the computer room, the kitchen where the raptors hunt Lex and Tim, the dinosaur breeding lab and even the moving theater seating. And of course the minifigures are accounted for (though there's no Ian Malcolm for some reason). But the coolest part is the lobby, complete with two dinosaur skeletons and the "When Dinosaurs Ruled the Earth" banner. The only thing missing is a LEGO version of the Tyrannosaurus Rex to save the day.
Since there are Jurassic World LEGO sets out there, it seems only fair that Jurassic Park get equal representation. But this is a pretty intricate LEGO set, so it might not be all that easy of a sell for LEGO to make official. However, maybe a LEGO version of the Jurassic Park Jeep Wrangler or Ford Explorer would make for a decent consolation prize.
If you want to help make this LEGO Jurassic Park set a reality, go vote for it on the LEGO ideas page right here so a jury can determine if they want to make it an official set. If it ever makes it into production, we'll be sure to let you know
Do you want some Jurassic Park LEGO sets for your collection?