'Grandma' Trailer: Lily Tomlin And Julia Garner Need Cash In Sundance Selected Comedy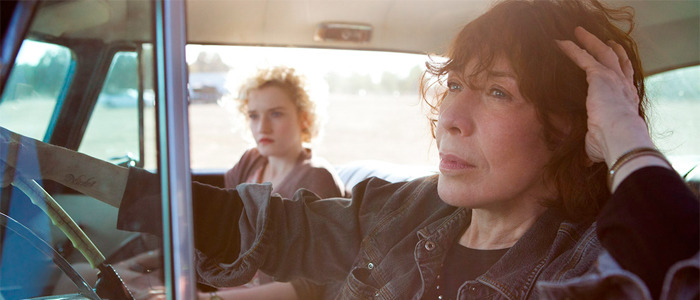 Right now you can get plenty of Lily Tomlin in the Netflix exclusive series Grace and Frankie, but later this summer she's also got a new indie hitting theaters, fresh from the Sundance Film Festival and Los Angeles Film Festival this year.
The movie is called Grandma, but don't think that just because Tomlin is old enough to play the title role that she's some feeble old woman. In the indie comedy, Tomlin just might be the coolest grandmother you've ever seen, but she's got a bit of an attitude problem, making it hard to get along with her granddaughter (Julia Garner of Sin City: A Dame to Kill For) when they need each other the most.
Watch the Grandma trailer after the jump!
Grandma didn't make our list of the best films from the Sundance Film Festival earlier this year, but it received some decent buzz after its premiere with THR calling it a "refreshingly modest, no-frills movie that is character-driven in the most rewarding possible sense, with an ample share of priceless dialogue played for truth, not for jokes."
However, I found the movie to be a little flat and uninteresting, save for a fantastic scene with Sam Elliott that really packs some solid drama. Otherwise, I feel like writer and director Paul Weitz (Admission, In Good Company, About a Boy) sort of meanders through the story for what could have been a much better movie. For me, part of the problem was that I didn't entirely buy the dynamic between Tomlin and Garner. But I would much rather see Tomlin's character in a far different movie if that was ever possible.
But you can judge for yourself when Sony Pictures Classics releases the movie on August 21st late this summer.
Elle (Lily Tomlin), a onetime successful poet, abruptly breaks up with Olive (Judy Greer), her girlfriend of four months. But before she gets a chance to get overly sentimental, her granddaughter, Sage (Julia Garner), unexpectedly shows up with an emergency that requires money. With the clock ticking, the two set out in a vintage Dodge and drop in on Elle's old friends and flames, asking for help but instead ending up rattling skeletons and digging up secrets. As they kick up a storm all over town, Elle's tough front reveals she is still reeling over the loss of her longtime partner, Vi, who recently passed away.