Does Marvel Studios Want Kenneth Branagh Back To Direct 'Thor: Ragnarok'?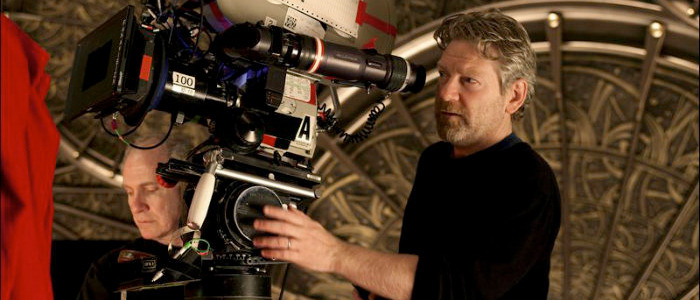 Marvel brought the God of Thunder into their cinematic universe back in 2011 with Thor, starring Chris Hemsworth as the son of Odin. At the helm of the film was Shakespearean filmmaker and actor Kenneth Branagh, and if a new Thor 3 director rumor is to be believed, it sounds like Marvel Studios might want him back to direct Thor: Ragnarok.
Find out more details about Kenneth Branagh directing Thor 3 after the jump!
Umberto Gonzalez, the scoopmaster who just founded Heroic Hollywood, recently appeared on Popcorn Talk (via JoBlo) and mentioned that Marvel may be turning to Branagh to direct the third installment in the Thor franchise, the events of which are supposed to be the reason we won't see Chris Hemsworth popping up in Captain America: Civil War. (Though it does sound like Mark Ruffalo will end up making an appearance.) Here's what Gonzalez said:
I was hearing that Marvel wanted Kenneth Branagh back for 'Thor 3'. But, he just got an offer to direct 'Murder on the Orient Express' at Fox. So, I don't know if it is going to happen or not. They're thinking about bringing him back into the fold.
Indeed, earlier this week we just heard that Branagh was in talks to direct the remake of the classic thriller at 20th Century Fox, but it wasn't a done deal yet. So is there a chance that Marvel would want Branagh back behind the camera?
It wouldn't be out of the question for Marvel to go back to the director who launched the Thor franchise to finish what would be the end of a trilogy for Thor's standalone film series. And if Tom Hiddleston is a big part of the sequel as Loki (and considering the end of Thor: The Dark World, he probably will be), then we also know that Branagh can get quite the powerful performance out of the fan favorite actor as well. Though he needs to cut down on the dutch angles.
But at the same time, I found the first Thor film to be inferior to Thor: The Dark World in some ways, especially in the action department. Branagh was not terribly gifted when it came to shooting exciting action, and his work on Jack Ryan: Shadow Recruit didn't show any improvement in that arena either. On the other side of the fence, Alan Taylor's work on Thor: The Dark World was much better when it comes to action, but performances didn't really seem up to par.
Personally, I'd rather see Marvel get a new director to take on Thor: Ragnarok. There's plenty of talent out there to make this third installment work. By the time filming needs to begin, I'm sure Warcraft and Moon director Duncan Jones will have some free time in his schedule, and I wouldn't mind seeing him get behind the camera for Marvel. Stay tuned to see what happens.
Thor: Ragnarok hits theaters on November 3rd, 2017.
Who do you think should director Thor: Ragnarok? Would you like Kenneth Branagh to come back?