Colin Trevorrow And Chris Pratt Talk 'Jurassic World' Expectations, 'Back To The Future' And More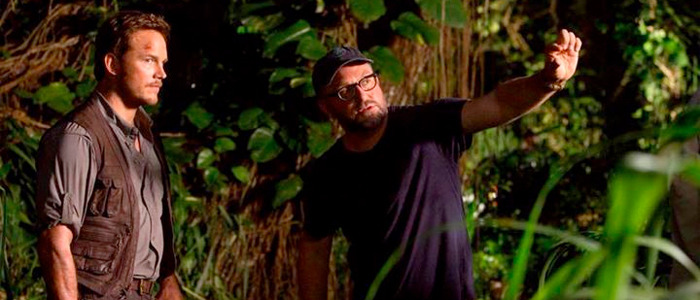 It's been just one week since Jurassic World hit theaters, and everyone still can't stop talking about the triumphant return of dinosaurs to the big screen. Whether you liked the movie or not, you can't deny that it's quite the box office milestone. There's a chance it could take the top spot at the box office again this weekend unless the family-drawing power of Pixar has anything to say about it.
So if you're anxious for some more talk about Jurassic World, why not listen to a one-hour chat with director Colin Trevorrow and star Chris Pratt? The two discuss the huge expectations that come with making a Jurassic Park sequel, some similarities to Back to the Future Part II (which I didn't think about until now) and much more. Listen to Colin Trevorrow and Chris Pratt Talk Jurassic World after the jump!
Here's the Colin Trevorrow and Chris Pratt Nerdist podcast episode:
Aside from the talk about Jurassic World, this is just a great podcast to get to know Trevorrow and Pratt better as people. It's not a super intimate talk like Inside the Actors Studio, but it's a very raw and genuine talk with the actor and filmmaker. It also helps that Chris Hardwick and Matt Mira are just two comedians and movie fans who are very easy to talk to.
Pratt dives into his struggles with weight loss and his worry about peaking in his 20s, not to mention delivering an impressive impersonation of his Parks and Recreation co-star Nick Offerman. And Trevorrow proves to be a very down-to-earth director, very familiar of how much scrutiny his work would be held under, the legacy he was inheriting and uphill battle that came with it. If you have the time, I suggest listening to this while you drive or work out.
Thanks to Nerdist for getting Trevorrow and Pratt to sit down for this one-hour chat.