Germain's Goodbye To Slashfilm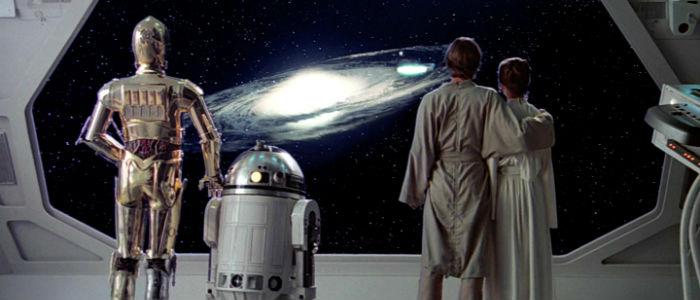 Slashfilm has always been my favorite website. It's where a young New Yorker writing about local entertainment went to learn about Hollywood movies like Transformers and The Dark Knight. Believe it or not, it's where I first came in contact with the works of artists like Tyler Stout, Scott Campbell and places like Mondo and Gallery 1988 — names that would literally change my life. After I moved to Los Angeles, I'd see Peter Sciretta at events and geek out like a star-struck fanboy. /Film was defining who I was long before I started working here.
Then, in September 2010, I did start working here. Like you see in the movies, every day since then, working my dream job has been exactly that: a dream. However, after completing over 8,200 articles during the past five years, I'm both happy and sad to announce today is my last day at /Film.
When I started my career, the goal was simple. Get paid to watch movies. My goals have evolved over time, but everything I've done in my career has always been about loving movies. Working for /Film gave me that chance, and so much more. Every single day for the past five years, I've jumped out of bed excited about the possibility of the day. With this job, you never know what you're going to write about, who you are going to talk to or what may happen on a daily basis. First thing in the morning things might be slow, then an hour later you're writing about a new Star Wars movie or find yourself on the phone with a legend. No matter what it was, there was always a thrill at being the person to tell the world about something I was so passionate about.
The amount of amazing things I've done and people I've met because of this website is impossible to quantify. But here are just a few: I visited the set of my favorite book, Ender's Game, as it was turned into a movie. I hung out in London with Edgar Wright, then flew back to talk to Thor and Tarzan. I met J.J. Abrams at Bad Robot, went to the Sundance Film Festival for the first time (and returned for several years after that), had Harrison Ford shake my hand and say my name, walked around at Pixar, Lucasfilm and Hogwarts, watched Ron Burgundy fight a dolphin, stood on the set of one of my favorite TV shows of all time, talked with Paul Rudd while he was dressed as Ant-Man, learned Lost history from Damon Lindelof, was quoted on books, posters, in trailers. The list goes on forever. My dream as a kid was always to see my name on TV during a movie commercial. That happened multiple times while working here. I can die a happy man.
And none of that would have been possible without /Film. Every opportunity I've had in the past five years has been because I worked for this website. Peter Sciretta and Russ Fischer are the two people most responsible for the professional joy I've had in my life and I can't thank them enough. At the start, Peter took a bit of a chance on me and it's my hope I've made his life easier and happier in the time I've been here. Russ deals with me every single day and I couldn't ask for a better listener or collaborator. Together, we were Superman and Batman. And I have to mention Angie Han, David Chen, Devindra Hardawar, Adam Quigley, Jeff Cannata and Chris Stipp who've all been wonderful colleagues and friends throughout this time. Because of these people, working on the site has been a pleasure. Because of them, I've found a voice, a community and friendships that will last a life time.
So why the move? If /Film makes me so happy, why change that? Well, my inflated ego likes to imagine I'm Mike Myers, Adam Sandler or Will Ferrell on Saturday Night Live. It's just time. Time to challenge myself. To see if I can be as successful somewhere else as I have been here. I think I can.
So, starting Monday, I've accepted a position to become the entertainment reporter at IO9.com. It's not a decision I made lightly, but I know it's the right one and I'm very excited.
I hope you all follow me there, or at least occasionally click on a link through my Twitter, @GermainLussier. I know I'll be joining every one of you, reading /Film on an hourly basis, stunned at the amazing work Peter, Russ, Angie, Ethan and everyone else does. It's also my hope that I'll still, in spirit, be part of the family, be it with the occasional appearance in a video blog or on the /Filmcast. (I also still have about six set visit reports to complete so you'll see my name pop up a few more times in the next year.)
Either way, once again I want to thank everyone at /Film for every amazing opportunity I've had in the past five years. I hope we can continue to be family from now until Star Wars Episode 200 and beyond. I also want to thank the readers. Every single reader who has ever read one of my stories, sent me a tweet, said "Hi" at a festival or Comic-Con, and even bashed me in the comments. Yes, even you people. The way I see it, you all care, even if you show it in weird ways.
I know the feeling. I've cared about this job more than anything and I'm nervous to let it go. But I leave knowing it'll always be a part of me.