LOL: Arnold Schwarzenegger Dresses As The Terminator To Prank Fans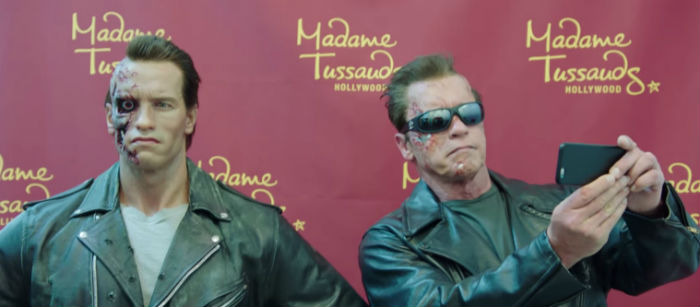 Walking on Hollywood Blvd. in Los Angeles, CA, you see a lot of people dressed as famous movie characters. Jack Sparrow, Spider-Man, Batman, Optimus Prime, Willy Wonka and so many more are all walking around, hoping people take a photo with them for a small fee. Most of the costumes are terrible, but some are quite good. The team at Omaze used that fact to their advantage. They dressed Arnold Schwarzenegger up as his own character from Terminator 2: Judgement Day. In costume, Arnie walked around Hollywood Blvd. relatively unnoticed, and even posed as a wax sculpture in Madame Tussauds to scare the crap out of unsuspecting tourists.
The video is a way to raise awareness for a charity contest where the winner gets a trip to the premiere of Terminator Genisys, but it's also just plain funny. Below, watch the Terminator Hollywood prank and find out more about the contest.
Here's the Omaze Terminator video.
Terminator Hollywood Prank
To enter the contest, get to this link asap as it ends on Friday. Here's the official info:
What You'll DoGo with him if you want to live... the most incredible night of your life! Arnold Schwarzenegger is back with a new, limited-time experience and you and a friend are invited as his special guests. Sidekicks, maybe? Not only will you take unlimited selfies with Arnold on the red carpet, but you'll also be one of the first people to see the movie. Did we mention that after the movie, you'll get to sip Schnapps with the Terminator himself at the official after-party? Hasta la vista, baby!Who You'll HelpAfter-School All-Stars (ASAS) provides comprehensive after-school programs that keep children safe and help them succeed in school and in life. ASAS' vision is for our All-Stars to be safe and healthy, to graduate high school and go to college, to find careers they love and then give back to their communities. ASAS serves 87,377 low-income, at-risk youth at 367 Title I schools in 15 major cities across the country — from New York to Hawaii.