First Look: Sony's Animated 'Get Smurfy' Starring Demi Lovato, Rainn Wilson And Mandy Patinkin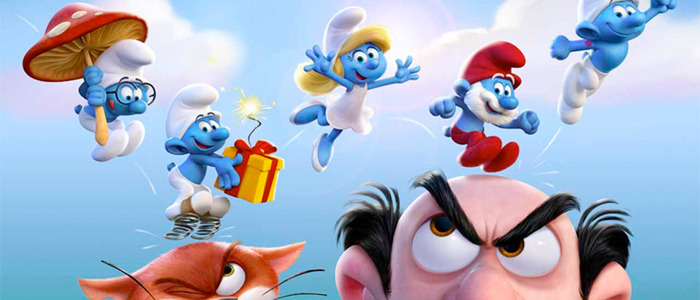 Sony Pictures previously revived The Smurfs in two live-action/computer animated hybrid adventures. But now the studio is having its Sony Pictures Animation division take a crack at the little blue creatures in a fully computer animated feature film that will harken back to creator Peyo Culliford's original animation style.
Since today is supposedly Global Smurfs Day, there's no better time for Sony to unveil a first look at the film, which is called Get Smurfy. In addition, the studio has also unveiled three of the principal cast members: Demi Lovato, Rainn Wilson and Mandy Patinkin. But to find out who they're playing, you'll have to check out the Get Smurfy first look after the jump.
Here's the video revealing the first cast members in Get Smurfy, along with a small gallery of images with the cast and their characters (via Sony Animation):
As you can see, Demi Lovato will be voicing Smurfette in the lead role, with Mandy Patinkin lending his voice to Papa Smurf (which is pretty brilliant casting). And bringing to life the villainous wizard Gargamel will be The Office star Rainn Wilson. So what can we expect from Get Smurfy? Here's the official synopsis:
Get Smurfy finds Smurfette and her brothers trekking through the uncharted Enchanted Forest to try and discover a fabled Smurfs village before their nemesis, the evil wizard Gargamel, does. Along the way, some of the mysteries of the little blue creatures' origins are brought to light: do Smurfs come in any other colors? are their mushroom houses organic? And... why are there 99 boys and only one girl?
Producer Jordan Kerner (Charlotte's Web, The Smurfs) says:
"We felt it was important to take a very different approach with this origin story. It returns to the roots of Peyo's creation in this CG animated adventure. I hope it will delight not only fans but audiences worldwide. We couldn't be more excited with the talented new cast we're starting to assemble for our Smurfy reboot!"
Kelly Asbury (Shrek 2, Gnomeo & Juliet) is directing Get Smurfy for a release on March 31st, 2017. She doesn't offer much more insight into what we can expect from the movie, but Asbury says, "The continued popularity of the Smurfs is unmistakeable, and this new outing will return them to the fully-animated world that launched them." It certainly can't be worse than the previous big screen efforts involving The Smurfs.
Anyone out there interested in Get Smurfy?