Mark Wahlberg Thinks Michael Bay Will End Up Directing 'Transformers 5'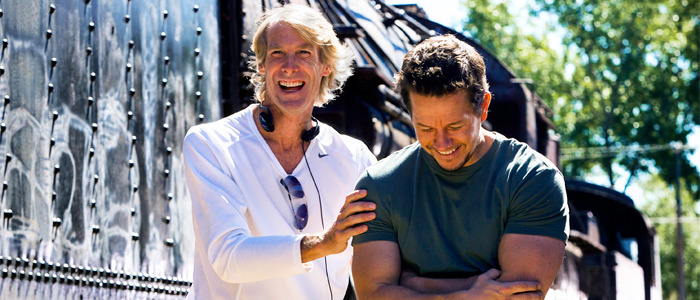 For better or worse, the Transformers franchise is always mentioned in the same breath as director Michael Bay. The blockbuster filmmaker turned the toy line into a box office sensation full of his signature explosions, non-stop action, hot actors and actresses and senseless storytelling.
As of August of 2014, though, it sounded like Bay was going to pass the franchise on to a new filmmaker after Transformers: Age of Extinction arrived. But that may no longer be the case. Find out more after the jump.
Towards the end of last summer, it was reported that Bay was thinking about passing the next installment of the Transformers series onto a new director. Bay said he was interested in something new, saying, "There's kind of a new chapter, a new direction in movies I want to make. I have a lot of stories to tell. And it's about flexing new muscles."
But new franchise star Mark Wahlberg believes that Bay will actually end up behind the camera again. When asked if he thought Bay would come back for Transformers 5, Wahlberg told Collider, "Yes." But at the same time, he had no updates on the sequel either, "Akiva [Goldsman] and those guys are starting to write and break stories, and stuff like that. But [Michael] Bay is in Malta shooting Benghazi, and I'm in New Orleans shooting Deepwater. We'll get together when he gets back."
That's far from a sure thing, but we know there are big plans in store for the Transformers franchise as an army of writers has been hired over the past couple weeks (including some female writers). Paramount hopes to build a whole Transformers big screen universe, one that might allow for spin-offs for characters like Bumblebee.
Last we heard, Hasbro was expecting Paramount Pictures to have Transformers 5 in theaters by 2017, and currently that would likely fit into both Whalberg and Bay's schedules. Either way, we know Wahlberg will be back for the sequel, and Bay will at least executive produce. Producer Lorenzo di Bonaventura previously was apprehensive about replacing Bay, though he knew it would happen at some point, and told us:
"I guess if you had to think about who would be the next one, my guess is it would be somebody who probably was a kid who watched the show as a kid because then they'll have a fundamental understanding of the D.N.A. in a way. And are able to bring that thing that you have when you've grown up with it. It sinks into you in a different way."
Honestly, getting a new director on board this franchise would be the only way to get me excited about this franchise again. It needs a new approach and a director who actually cares about a coherent story to go along with action spectacle. But we'll just have to wait and see how all this Transformers development plays out.
Do you want Michael Bay directing Transformers 5? Who else should direct a Transformers movie?